Zimbabwe doctor 'electrocuted during abduction'
The Zimbabwe doctor and union leader who was missing for five days has told the Voice of America (VOA) that he was electrocuted during his abduction.
"I remember being in a basement of some sort, being electrocuted at some point, that is what I vividly remember," Peter Magombeyi said
The US broadcaster said that he was struggling to speak in the interview, saying: "I barely remember anything."
Dr Magombeyi, who had organised a series of strikes over poor pay and working conditions in recent weeks, was left in the bush in Nyabira, about 20km (12 miles) north-west of the capital, Harare, on Thursday night.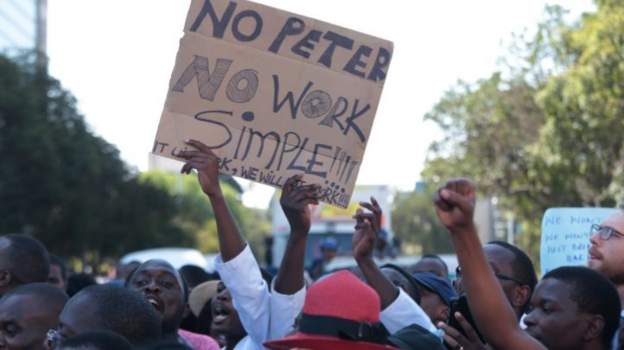 He told Zimbabwe's state-run Chronicle Paper that he recalled being kidnapped by three men on Saturday night.
The BBC's Shingai Nyoka in Harare says the authorities had suggested his disappearance was staged or the work of a "third force" wanting to undermine the government.
There have been a spate of abductions of government critics in recent months.
The police say they are investigating what exactly happened to Dr Magombeyi, who is the acting president of the Zimbabwe Hospital Doctors Association (ZHDA).
Before he disappeared, he told the AFP news agency that he had received threatening calls and messages on his phone.
He had been demanding more pay for doctors as inflation is making it impossible for them to get to work as their salary has shrunk to $100 (£80) a month.
The government had to deploy military doctors to state hospitals this week after medical workers went on strike across the country when he went missing.
Source: BBC