Tamale Interchange project ahead of schedule-Roads Minister
The minister of Roads and Highways, Lawyer Kwesi Amoako Atta has indicated that the Tamale Interchange project is far ahead of schedule with about 40% of the project completed.
The highly impressed minister who is in the region on a working visit expressed gratitude to the contractors for their swift response to work, urging them to keep up the good work for the people of Tamale.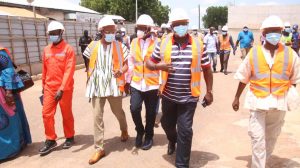 He further acknowledged the residence of the metropolis for cooperating with the contractors and is hopeful they will continue to remain calm throughout the projected schedule time.
The minister noted that the project which is scheduled to complete in 2021, is likely to see the light of day before the said time frame.
In an interview with Fiila news the resident engineer of the project, Mr Emmanuel Degbotse indicated that out of the 18 piers to be used in the project, 7 has been completed with the 8th one underway.
According to him by the middle of July all the 18 piers would've been completed and work far advanced.
The interchange is expected to improve the traffic situation in the metropolis and, given its proximity to neighboring Burkina Faso and Togo, it will also contribute to enhance trade relations and integration among countries in the sub-region.
The one-kilometer stretch of interchange is part of Phase One of the $2 billion Master Project Support Agreement (MPSA) between the Government of Ghana and Sinohydro Corporation of China, under which a number of infrastructure projects, including roads, bridges, housing facilities and electricity extension to rural communities across the country, are to be executed.
The Minister of Roads and Highways, Mr Kwasi Amoako-Atta, visited the project site on Thursday,June 11 2020,  to find out the challenges that the contractor on the project was facing and also inspect the extent of work done so far.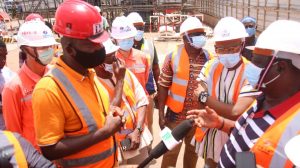 He was accompanied on the visit by the Northern Regional Minister, Mr Salifu Saeed, The Savannah Regional minister and his Deputy ,  and other officials from the Roads And Highways Ministry.
Source:Fiilafmonline/ShawanaYussif