Ningo Prampram: Family of 2 shot and burnt beyond recognition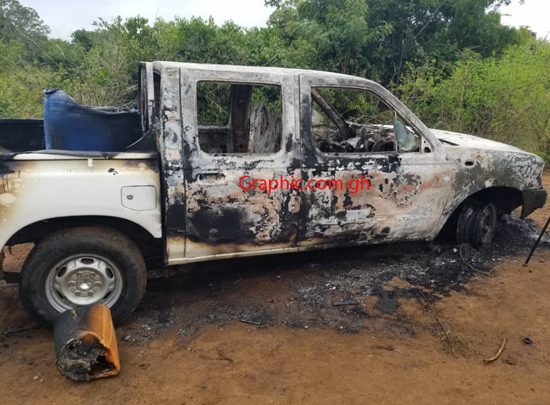 The police has commenced investigations into circumstances which led to the death of a family of three at Zutsukpo, a village near Tsopoli in the Ningo-Prampram District on Thursday night.
The incident reportedly happened around 8pm on Thursday.
Graphic Online's Benjamin Xornam Glover reported that the family, a man, his wife and their five-year-old son were allegedly shot by some unknown assailants and were burnt beyond recognition.
The assailants allegedly shot them dead and set their vehicle, a pick-up truck with registration number GW 8970 V, in which they were travelling on fire.
The name of the man has been given as Kwao, a farmer.
Together with the wife and son, they were said to be on their way to fetch water for domestic chores after the day's work when they were allegedly shot by the unknown persons.
The victims were burnt beyond recognition.
When Graphic Online contacted the Ningo-Prampram Divisional Commander, Assistant Commissioner of Police, (ACP), Mr G. Dodzi Hlordzi, he said investigations were underway.
Source: graphic.com