I'm not perturbed about votes; I'll protect the environment – Nana Addo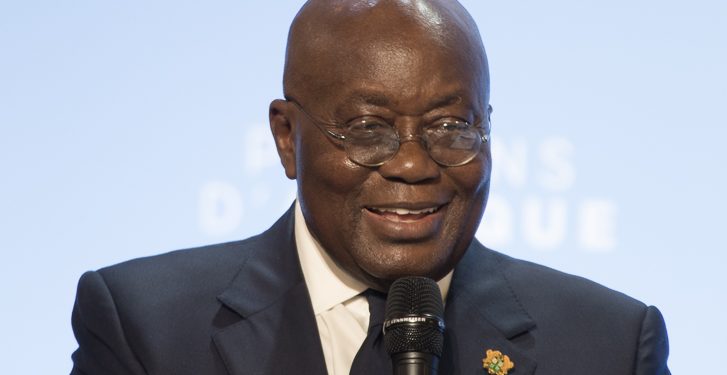 President Nana Addo Dankwa Akufo-Addo has stressed that he will undertake activities that will protect the environment despite the possible negative implications on his 2020 electoral votes.
He said although he was made aware of the resistance that greeted his administration's imposition of a ban on small-scale mining to sanitize the sector and the efforts to weed out illegal small-scale mining popularly known as galamsey in 2017, his quest to safeguard the environment for the present and future generation motivated him to still carry on with the decision.
Speaking at Breman Asikuma in the Central Region at the beginning of his three-day tour of that region, Nana Akufo-Addo said he is not perturbed about the threat by his critics to vote him out in the 2020 election.
"Some young men were not happy. Some insulted and vilified me, threatening to vote against me in 2020. But what I did was to protect the environment and do what God told me will be best for Ghana. I will not think about the implications it will have on elections," he said.
After more than 15 months after the government formally launched activities to clamp down on illegal mining activities, not much seem to have improved as there are still many reports of illegal mining in some communities in the Eastern, Western and Ashanti Regions.
Some waterbodies still appear brownish in colour.
The Inter-Ministerial Committee on illegal mining was set up to oversee the implementation of the ban on all forms of small scale mining and also see to the vetting of small scale miners.
The secretariat was also hit by alleged bribery and corruption in Anas Aremeyaw Anas' exposé on illegal mining.
The secretariat was commissioned in March 2017 by President Akufo-Addo to reform artisanal and small-scale mining in the country.
It was also aimed at developing a roadmap towards lifting an indefinite ban on small scale mining that lasted for about 21 months.
The team was also supposed to vet registered small scale miners in the country to streamline their operations and make recommendations to the President to lift the ban on illegal mining.
Fight against illegal mining failing – Media Coalition
The Media Coalition against illegal mininghad also described the fight against illegal mining, popularly known as 'galamsey', as an ailing one.
The Convener of the group, Ken Ashigbey had earlier blamed it on what he described as lenient sentences handed to persons arrested for engaging in illegal mining.
Mr Ashigbey said the systemic failures must be addressed.
"Government together with the Ministry of Lands and Natural Resources came up with the multi-sectoral integrated project and we replaced that with an inter-ministerial taskforce which then introduced elements which were not constitutionally mandated people to really handle it which was almost like a stop gap measure.  The ministerial committee took out various elements of them and tried implementing it."
"I think that was a major failure.  Another failure was also about the fact that the justice delivery system happened to be the weakest link in the whole chain because people were arrested and they were released with the tap on a finger. So I am sure that it became a demotivating factor for the people who were integrated to really fight. I am sure that at that particular time, we lost a bit of the fight", he added.
Source: Citinewsroom