Hold on with Friday prayers in major mosques until further notice – Chief Imam cautions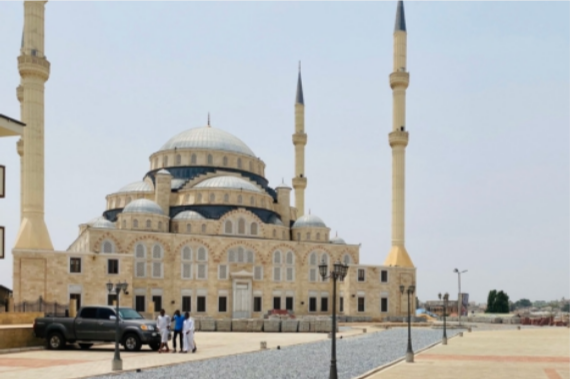 The National Chief Imam is urging the Muslims to hold on with Juma'a prayers in major mosques especially in urban areas despite the easing of restrictions by government.
Sheikh Osman Nuhu Sharubutu said he is to avoid the high risk of losing control of the huge congregational size pursuant to the directive of the president limiting the number of worshippers to 100 per session.
In his 10th address to the nation, President Akufo-Addo said while churches and mosques could open for a duration of one hour, worshippers must adhere to a mandatory one-metre rule of social distancing among other protocols and precautions.
Minister for Chieftaincy and Religious Affairs, Samuel Kofi Dzamesi who was tasked to outline these protocols for churches and churches that will be operating, asked leadership to form Covid-19 task forces within the congregants, comprising of members who are preferably health workers.
The National Chief Imam through the Chairman of the National Chief Imam Advisory Board, Mammmah Gado Mohammed said, "for the purpose of effective monitoring and enforcement of the new protocols, Covid-19 taskforces/committees should urgently be put in place at all the levels of the masjid (mosque) administrations ie. Regional, district, community, neighbourhood, and institutional masjid (mosques)."
Also "Community/neighborhood masjids may open for daily routine salat bearing in mind preventive social distancing and other protocols."
Sheik Nuhu Sharubutu said preventive measures such as the mandatory wearing of face masks and checking of temperatures using temperature guns must be enforced at all mosque entrances.
He added that persons with high temperature should be politely referred to the Mosque Covid19 Committee while the use of personal mats is highly recommended.
The National Chief Imam again urged Muslims across the country to observe all the various protocols outlined.
"The National Chief Imam supported by the leaders of the respective Muslim communities entreats all Muslims to strictly observe the new protocols, and guidelines. Further directives on the grey areas will be given in due course. Let us all help to protect each other."
"The prophet Muhammad (SAW) has been quoted as saying "None of you shall be a true believer unless he loves for his/her neighbor what he/she loves for him/herself." (Hadith attributed to the Holy Prophet Muhammad)," Sheik Nuhu Sharubutu concluded.
Source:Fiilafmonline/JoyNews