Franco exhumation: Spain's Supreme Court backs move to cemetery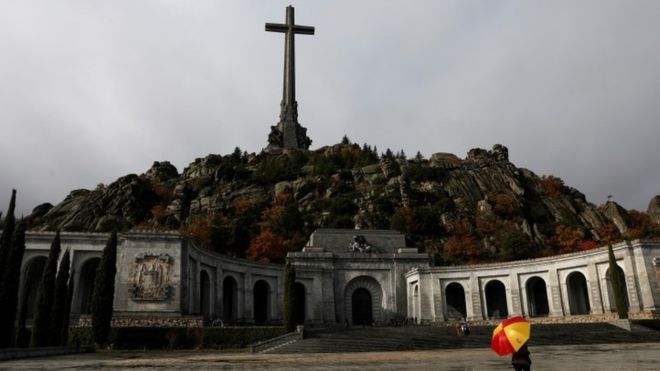 Spain's Supreme Court has ruled that the remains of dictator Francisco Franco should be exhumed.
It backed the Socialist government's plan to move the remains from a state mausoleum to a less controversial site.
An appeal by Franco's family against the exhumation and proposing an alternative site was rejected.
The issue has divided opinion in Spain, which remains haunted by the Franco era. He won the 1930s civil war and went on to rule Spain until 1975.
In a unanimous ruling, the court said it had decided to "completely reject the appeal lodged by the family in relation to Francisco Franco's exhumation".
In a tweet (in Spanish), Prime Minister Pedro Sanchez hailed the decision as a "great victory for democracy".
Mr. Sanchez's deputy, Carmen Calvo, said the exhumation would be completed "as soon as possible". The government wants to carry it out before elections on 10 November.
Franco currently lies in a huge mausoleum called the Valley of the Fallen, alongside tens of thousands of civil war dead.
Many revile the complex – just outside Madrid – as a monument to the triumph of fascism, and it has become a shrine for the far right.
Source:  Fiilafmonline/BBC