Financial hardships cause of LGBT activities – Former Prez Kufuor
Akosua Boakye
October 22, 2019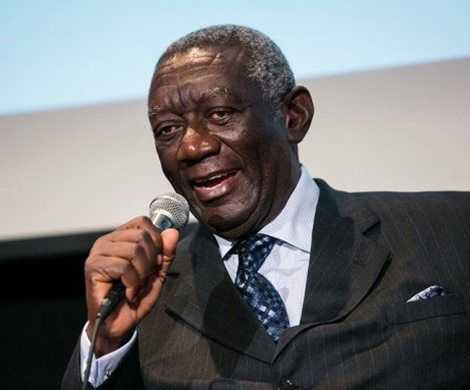 Former President John Agyekum Kufuor has said the spread of Lesbian, Gay, Bisexual and Transgender (LGBT) activities in the country can be traced to financial hardships.
He said population increase, coupled with the inability of the economy to sustain life in many ways, had led to hardships, as a result of which people tended to care more about survival than morality.
The former President said this during a call on him by the leadership of the National Coalition for Proper Human Sexual Rights and Family Values to officially invite him to a national dialogue on LGBT in the country, scheduled for October 29, this year.
The team, which was led by the Executive Secretary and Spokesperson for the coalition, Mr Moses Foh-Amoaning, also included a former Chairman of the Church of Pentecost, Apostle Dr Opoku Onyinah.
Moral values
Former President Kufuor added that due to the challenging economic situation, parents hardly cared about imparting morals to their children.
"Now parents have to wake up early to go to work. By 4 a.m. some have to leave home and sometimes their children, some of whom may be as young as six months old, are sent to crèche without any regard for the value systems of caretakers.
"We have reached an era when parents rarely live with their children to teach them morals and exhibit parental authority on them. Due to this, most children have become vulnerable and they copy some cultures, including LGBT, which are alien to the African society," he added.
He advised that people be empowered financially to enable them to take care of themselves and their families, while inculcating moral and religious values in their children.
Former President J.A. Kufuor (middle) with the team from the National Coalition for Proper Human Sexual Rights and Family Values
Support
Mr Kufuor expressed support for the activities of the coalition, explaining that the practice of LGBT was unnatural and that if it was allowed to fester in society, it could destroy the family and African value system.
"If we want society to continue, then we must understand that a man cannot give birth, likewise a woman cannot impregnate her fellow woman. They can adopt a baby and act as parents, but that will all be pretence and never genuine," he said.
Response
Mr Foh-Amoaning said there was the need for a comprehensive national and Pan-Africanist response to the phenomenon of LGBT.
"Fortunately, all our past and current Presidents have rejected the legalisation of this act. We need to look at it from a comprehensive view point and have a legal backing to support the resistance.
"The Eurocentric view is that LGBT activities are lifestyle and they like it. That is fine with them, but we in Africa believe that LGBT is a psycho-social problem and very unnatural. There are antidotes to these conditions and people can be treated," he said.
According to him, if LGBT practitioners were allowed to take hold of children, the children would grow up with such mentality, adding: "We must make sure they don't win the minds of our children because when that happens, it will enter society and end up affecting us."
National dialogue
Mr Foh-Amoaning explained that it was part of efforts to stem the tide that his association was calling for a national dialogue on the theme: 'The African family and sustainable development — Strong family, strong nations', to put together a comprehensive Afrocentric response to LGBT practitioners.
Source: Graphic.com