DLAid provides educational support to 10 Needy but Brilliant students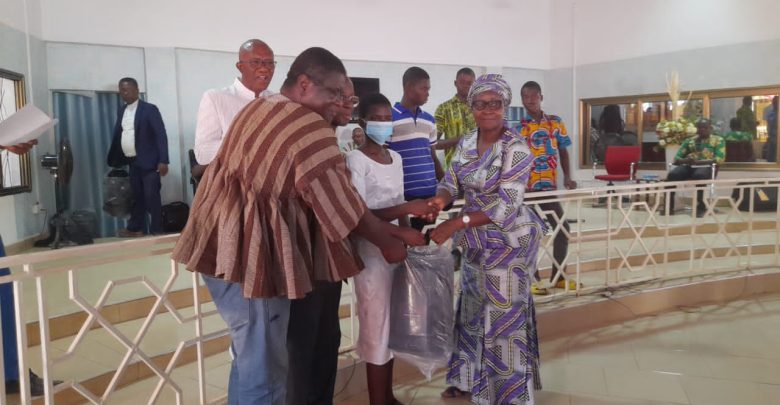 The Deeper Life Aid (DLAid), a subsidiary of the Deeper life Bible church, has donated educational materials to 10 needy students.
The students who are in junior high school, were chosen from the five divisions of the deeper life Bible church in the northern region.
The beneficiary students who are mostly Muslim, received school bags, books, and other material that will be useful to them in school.
In an interview with FiilaNews, the regional overseer of Deeper Life Bible Church Incharge of Northern, Savannah and North East regions, Rev Edward Kofi Tumsiah noted that the church has a responsibility to help society, hence the support given to the needy but brilient students is part of their Corporate Social Responsibility (CSR).
He noted that  the educational support project under the DLAid, is embarked upon by the church annually to help struggling student to find relief in going through their Junior High school education.
According to Rev Tumsiah, the church through the DLAid, also offer skills development training to mothers of these needy students to enable them cater for the students after the donation given them by the church.
"Every year has its own modus operandi hence depending on the committee working on the DLAid, projects may defer from year to year".
Rev Tumsiah believes  the government's timely implementation of the free SHS is very strategic and will serve as a support system for these students when they graduate to the next level.
On his part the Sagnarigu Deputy Director of education, Mr. Isaac ouadrago who was in attendance, commended the Deeper life Bible church for the good job done through their aid programs.

He called for more support in the field of education noting that, it is the only way to build a resourceful society that can be beneficial to the development of the country.
The Regional Focal person – Deeper Life Aid (DLAid), Lenos Adaawumya Atule speaking to FiilaNews, indicated that DLAid is focused on training the minds, hands and hearts of individuals in communities who are not members of the church in most cases.
He recalled that the donations given the beneficiary students, automatically qualifies their parents to take part in the livelihood empowerment against poverty program rolled out by the deeper life aid, to ensure the support given the students continues.
Adam Rahama Deeshini, a beneficiary student who spoke to FiilaNews, expressed their gratitudes to DLAid and promised them she and her colleagues will study hard to make them proud.
Source: Fiilafmonline/ShawanaYussif