Bangladesh fire: Blaze kills dozens in Dhaka historic district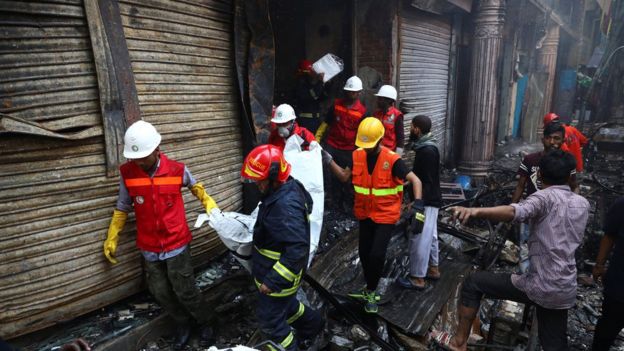 A fast-moving fire swept through a historic district of Bangladesh's capital, Dhaka, killing at least 78 people, officials say.
The blaze broke out at night in a residential building that had flammable material stored on the ground floor.
Members of a bridal party are thought to be among the victims. It is not yet clear what started the fire.
The centuries-old Chawkbazar district has narrow streets and buildings very close to each other.
Large building fires are relatively common in densely populated Bangladesh, owing to lax safety regulations and poor conditions. Hundreds of people have been killed in recent years.
On Sunday, a fire in a slum in the coastal city of Chittagong killed at least nine people.
The fire broke out in a mixed-use building at 23:40 local time (17:40 GMT) on Wednesday, when many residents were sleeping.
It started at a chemical warehouse on the ground floor and then raced through three other buildings, officials say. Many people were trapped, unable to escape the flames.
Witnesses and police said gas explosions helped fuel the blaze.
Mohammad Firoz, who sells cosmetics in Chawkbazar, said 25 of his friends and relatives were missing and that he feared his brother was dead.
He said he had seen an electricity transformer explode, causing a minibus parked below to catch fire. Its gas cylinder then exploded, causing a blaze in a nearby chemical shop.
"The flames spread so quickly," he told the BBC's Bengali service. He said his brother, Hira, who worked in a nearby pharmacy, closed the shutters of the shop after one of the explosions, fearing there had been a bombing. "I fear he died inside the shop, I am still searching for his dead body."
Haji Abdul Kader, whose shop was destroyed, said he had "heard a big bang". He told AFP news agency: "I turned back and saw the whole street in flames. Flames were everywhere."
The death toll stood at 78, Dr Sohail Mahmoud, head of the department of forensic medicine at Dhaka Medical College, told reporters.
Source:FIILA/BBC