Refurbished Information Ministry press centre opened
The Chief of Staff, Mrs Akosua Frema Osei-Opare on Monday morning opened the refurbished Press Centre at the Ministry of Information.
The facility can now boast of a self-production suite and a new guest lounge for visiting ministers and the press.Mrs Osei-Opare disclosed that the refurbishment of the press centre was part of the government's rehabilitation agenda to help the ministry function effectively.
"The Ministry continues to play a key role in communicating the government's policies and programmes to the people of Ghana. That is why the government sees the need to provide the requisite logistics and resources to deliver the mandate that has been given to the Ministry of Information," she said.
She commended the efforts of the Minister of Information, Mr Kojo Oppong Nkrumah, his deputies and the staff of the ministry, for helping to facilitate the communication of the government's plans, policies and activities.
n his address, Mr Oppong Nkrumah said the refurbished centre will provide a more comfortable working environment for government actors and the media.
"When it comes to building a relationship of working together in pursuance of a common agenda, and that agenda being building a nation great and strong, we believe it is important to have a comfortable space within which we engage the media on regular basis. This is the standard worldwide," he said.
According to him, the government will continue to execute initiatives to further the exercise of deepening engagements between state actors and the media.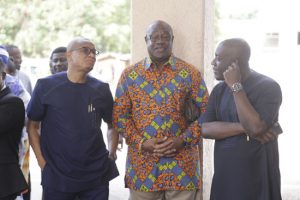 The ceremony was attended by former ministers of Information, National Media Commission Chairman Yaw Boadu Ayeboafo, President of the Ghana Journalists Association (GJA) Mr Affail Monney as well as directors and staff of the Ministry of Information.
Source: graphicfmonline.com