Northern youth venture into fabric weaving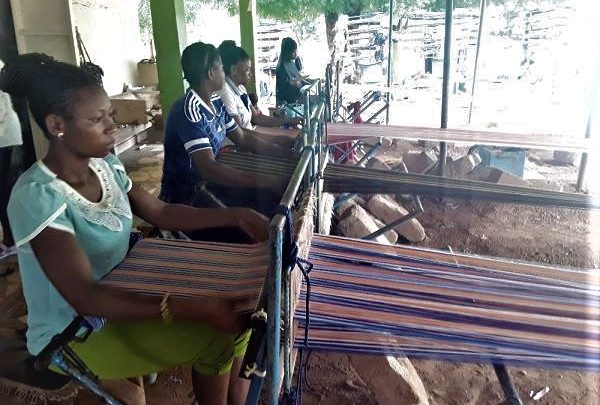 Many young people in the Tamale metropolis and the Sagnarigu municipality are embracing the weaving of the traditional northern fabric, also referred to by those in the south as the 'northern kente' as a source of livelihood.
Weaving of the fabric has now become an income generating venture for many young people, especially women, in parts of the metropolis and Sagnarigu.
Along the Tamale-Nyankpala road and some parts of the metropolis, young people, especially women, can be seen sitting behind locally manufactured metal looms, engaging in this age-old craft.
At the Godfrey K. M Tietaah Memorial Ventures, a weaving centre in Tamale, one of the weavers, Lucy Abelkpeng, told the Daily Graphic that she had been in the business for almost a decade.
She said she begun as an apprentice at the centre and had now become the master and now is in charge of training other young women and men who came to the centre to learn the trade.
Source of livelihood
Lucy stated that although one had to sit for long hours to weave, it was worthwhile as it had provided a source of livelihood for many young women who might have migrated from the north to the south for non-existent jobs.
An apprentice at the centre, Mary Ejon, a Senior High School (SHS) graduate from Salaga in the Savannah Region, said she hoped to set up a centre in the future to also train others.
Abdul Rahman, also a SHS graduate and one of the four young men at the centre who has completed his apprenticeship and working at the centre, said that his training was sponsored by the Catholic Relief Services (CRS), a non-governmental organisation (NGO) in Tamale.
He was glad he learnt the craft which has since been a source of employment for him.
Training
Ms Faustina Melody Tietaah, the proprietress of the centre, said she had trained 32 people who were now working with her, beside the 15 apprentices.
Some of the people she had trained had also established their own centres to train others, she added
She praised the wife of the Vice President , Mrs Samira Bawumia, for popularising the northern fabric "which she always wear to functions."
A yard of the beautiful hand woven northern fabric is sold for GHC65 and the four yards goes for GHC260.
Ms Tietaah noted, however, that the thread used in weaving the fabric was imported from China, and that sometimes they experienced shortages on the market.
She called for the government to support the production of the thread locally to provide jobs and also easy access.
Source: Graphic.com.gh