Zoomlion Disinfects Police installations in the Northern Region
Zoomlion Ghana has on Tuesday 9th February 2021, disinfected  all police stations in the  Northern Region to help curb the spread of Covid-19 among the officers and members of the general public.
The exercise also covered bungalows, cells and various police installations in the region.
The Nationwide exercise which took place simultaneously across the country forms part of measures put in place by Zoomlion to help combat the spread of the deadly coronavirus (COVID-19) within the security installations.
Speaking in an interview with the Northern Regional Manager of Zoomlion-Ghana, Mr Peter Dawuni, said the Ghana Police Service was an institution where people visit a lot and helping to halt the spread of COVID-19 within police stations and barracks was laudable.
He said the disinfection has covered various government institutions and made a passionate appeal to other cooperate bodies to make a frantic effort in getting their installations also disinfected to curb the spread of the Novel virus.
Though the country is still recording higher rates of infections, Mr. Dawuni believes that Zoomlion's  disinfections are still necessary in salvaging the situation.
He therefore entreated the public to take keen interest in the fight against the disease.
The manager maintained that the fight against the  Virus was a shared responsibility, hence the need for  individuals and cooperate bodies to take up the challenge to disinfect their homes and offices.
On his part The Northern Regional Police Commander, Commissioner of Police (COP) Timothy Yoosa Bonga, commended Zoomlion for the disinfection, saying the exercise would help motivate personnel to continue to deliver on their mandate without fear.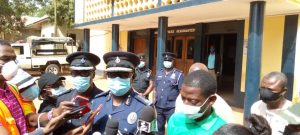 He further made known their resolve to enforcing the laws that require residents to abide by the safety protocols, though residents are recalcitrant in that regard.
Among the stations that were disinfected includes; The Regional Police Headquarters and its adjoining installations, the Divisional Police Headquarters-Lamashegu, Sakasaka police station, UDS police post and the Sagnarigu Municipal Police Station.
Meanwhile the  disinfection team will make its way to the Savanna and North East Regions today, to carry out the same exercise in those areas as part of the nationwide exercise.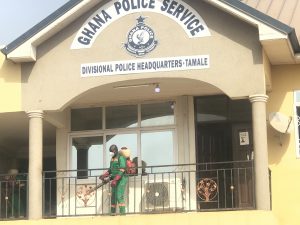 Source:Fiilafmonline/ShawanaYussif