Zimbabwe protests: Opposition MDC backs down after police ban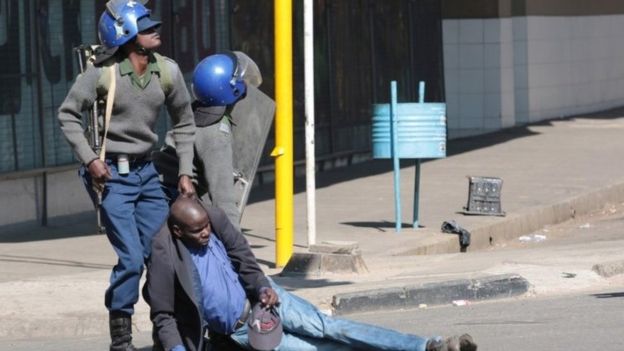 Zimbabwe's main opposition group has called off anti-government protests in the capital Harare at the last minute, after failing to overturn a police ban.
However, protesters who had already gathered in the city were violently dispersed by police. Several were hurt.
The opposition said the ban exposed the "fascist" government's true colours.
The demonstration was called in protest at the government's handling of the economy, but police said they had evidence it could turn violent.
There is a heavy police presence and the city centre is subdued, with most shops closed.
About five million Zimbabweans are in need of food aid, according to the UN.
Some opposition supporters had already gathered, singing songs condemning police brutality, by the time the opposition Movement for Democratic Change (MDC) announced the suspension.
Police quickly moved in to disperse the crowds, firing tear gas.
Video and still pictures from the scene show officers beating protesters with batons as they chased them from the streets.
Several people were seen lying on the ground motionless and receiving medical attention.
"This is worse than during colonial times," AFP quoted one man as saying.
"We aren't armed but the police just beat us while we were sitting on the street."
Source:Fiilafmonline/BBC