Tamale repeats history in Open Defecation League Table
The Tamale Metropolitan Assembly, repeatedly has still taken the lead with the highest percentage of people who defecate in the open in the Northern Region.
This is according to an assessment carried out on the practice of Open Defecation (OD) in the 29 Metropolitan, Municipal and District Assemblies (MMDAs) in the old Northern Region, this year by Water, Sanitation and Hygiene (WASH) partners in the region led by the United Nations Children Fund (UNICEF) in collaboration with the Northern Regional Coordinating Council.
The Mion District placed first followed by the Tatale/Sangule District in the second position, for recording the lowest percentage of their residents still practicing open defecation. Whiles Kpandai, Zabzugu and Nanumba North placed third, fourth and fifth respectively on the 7th league table.
Tamale, North Gonja, West Gonja, Savelugu and Sagnarigu topped the league from the bottom in that order for having lower coverage of household latrines which leads to an increased practice  in open defecation.
Mr Osman Mumuni, WASH Specialist at UNICEF who spoke during the launch of the 7th OD League Table in Tamale, indicted that the Region needs a kick-inn of law enforcement to curb sanitation issues drastically.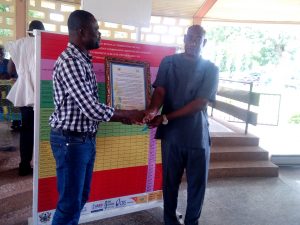 He added that UNICEF will continue to support the region to achieve a filth-free status, but underscored the need for prosecutions on sanitation issues to begin in earnest.
Mr Salifu Saeed, Northern Regional Minister assured that the Regional Coordinating Council would continue to work in partnership with non-governmental organizations to see its population stay healthy, lead dignified lives, increase productivity and provide good foundation for children and all vulnerable groups in society.
The Regional Minister further urged MMDAs in the region to educate their citizens on the need to desist from indulging in open defecation (OD).
Meanwhile the leading and hardworking MMDAs were awarded for the good fight against OD at the 7th ODF league table that was held at the Regional Coordinating Council.
Source:Fiilafmonline/ShawanaYussif