Poor Road Network Retards Daily Activities in Saboba District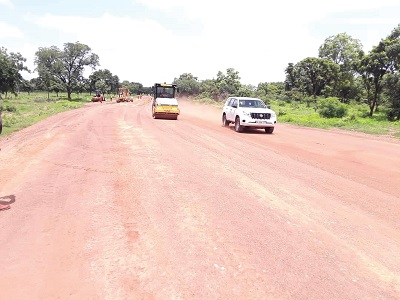 Residents of Kpalba, a suburb of Saboba district in Northern Ghana have called on the Ministry of Roads and Highways to rehabilitate major roads in the District.
The residents say the rehabilitation of the roads would facilitate economic development. It will also facilitate road network from Saboba to other areas within the Eastern Corridor and major parts the country as a whole.
Major roads such as Saboba–Kpalba road, Saboba–Wapuli road, Saboba–Chereponi road and many others have been washed off by heavy downpours.
Roads in the area have been in bad state for years bringing prolonged sufferings to inhabitants and motorists.
Farming and trading which are the major livelihood activities are always affected, especially, during raining seasons.
A resident said motorists plying the road face severe dangers.
Another resident who gave his name as Kwabena said users like him are compelled to take diversions leading to unapproved charges on passengers, indicating that it's a worrisome situation which government should fast track its intervention to save lives.
According to him, the Member of Parliament for the area Mr. Charles Bintin in March 2019 told the district about government's commitment to improve the roads network in the area before the rains set in order to curb floods in Saboba and its surrounding communities "but nothing has been done ever since."
Mr Kwabena revealed that the lawmaker made this statement a day before the celebration of 62nd Independence Day on a Saboba based Radio Kitawoln.
He said the distortion has diverse effects on their business and farming activities which needs urgent attention from the Ministry of Roads and Highways before things get out of hand.
Source:Fiilafmonline/Eyewitnessnews