NDC introduces electronic payment for members, supporters
Akosua Boakye
July 16, 2019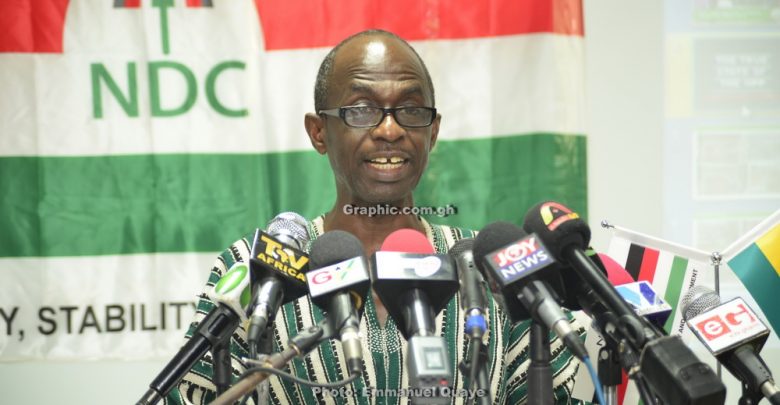 The National Democratic Congress (NDC) has introduced three electronic-payment platforms to enable its members and supporters to pay their membership fees and make donations in an efficient and transparent manner.
The three payment platforms are the app interface which is available on Google Playstore and the App Store, a website address and shortcodes for mobile money payments.
Addressing the press prior to the launch of the platforms, the General Secretary of the NDC, Mr Johnson Asiedu Nketia, said the party had decided to come out with the innovation in order to ensure that the party collected dues and disbursed same in an efficient, transparent and accountable manner.
Ensuring accountability
The NDC, Mr Asiedu Nketia said, had for many years pegged its membership dues at GH¢1, but the manual system of collecting the dues had proven to be very difficult, resulting sometimes in situations that detracted from transparency and accountability.
He pointed out that going strictly per the party's regulations, most of the party's members would have defaulted and been short of the paid-up member status.
"We realised that collection of dues was a challenge and, therefore, there was the need to develop a more efficient means of collecting dues, hence these platforms," he said.
He said that there was an ongoing debate on the high cost of seeking political office in the country and was of the view that solutions to that challenge ought to be sought.
Ensuring participatory democracy
The general secretary was, therefore, of the position that if political parties failed to find innovative ways of raising funds, then filing fees would continue to hike, saying that would be a disincentive to participatory democracy as only the rich could afford and would ultimately become the decision makers.
But when the rank and file of the party had the same means of contributing to the finances of the party, "then there will be collective ownership".
Monetisation of politics
The National Chairman of the NDC, Mr Samuel Ofosu Ampofo, said it was gratifying that the journey to digitise the payment of dues, which started some years ago, had finally become a reality.
He said the party was on a move to decentralise party organisation and funding and ultimately, the issue of the monetisation of politics would be dealt with in order to ensure a fairer means of resource distribution.
For his part, Dr George Attah Boateng, an IT Specialist who led the development of the platforms, said the app was on the Google and App playstores under the name NDC-GHANA, on the web as ghanandc.com and on the mobile money payment system with the shortcodes *216# or *714*24#.
Source: Graphic