Kokrokoo Charities donates two incubators to Tamale Teaching Hospital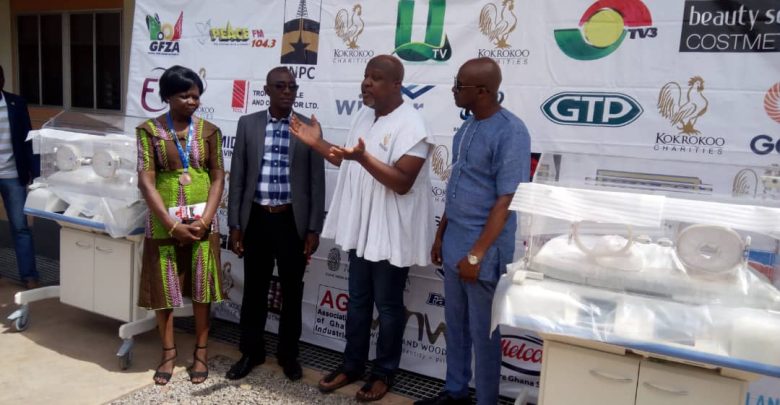 The Kokrokoo Charities Foundation, an Accra-based charitable organisation, on Thursday, April 26, 2019, presented two more incubators at a sum of 10,000 dollars each, to the Tamale Teaching Hospital.
This makes a total of three (3) incubators so far donated to the hospital by the foundation.
Speaking to the media after the presentation, Mr Kwami Sefa-Kayi, Founder of the Foundation, indicated that at the end of their journey tomorrow, a total of 30 incubators including the two for the Tamale Teaching  Hospital, which were procured from Germany, would have been presented to selected hospitals across the country.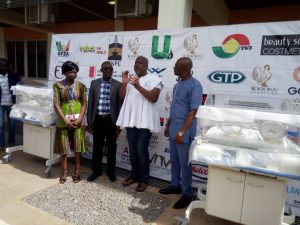 5 years ago the Kokroko Charities Foundation launched project 100 incubators to help reduce the rate of  infant mortality in our hospitals across the country.
With about 30% of the target accomplished, the foundation hopes to meet 50% of the project 100 incubators in the next 5 months, towards attaining goal 3 of the Sustainable Development Goal (SDG).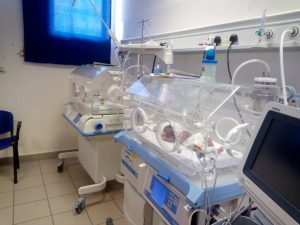 The Foundation decided to embark on the incubator donation project, among other objectives, because Ghana had a record of 140,000 pre-term births with more than 8000 dying before 30 days, due to inadequate or unavailability of incubators in the hospitals.
In his submission the Chief Executive Officer of the Tamale Teaching Hospital Dr. David Akolbila on behalf of Management and staff, expressed gratitude to the foundation for the gesture and assured them of the appropriate use of the equipment to achieve its purpose.
He indicated that it will go a long way to save the lives of many innocent babies who are born pre-term and need further attention and monitoring.
Meanwhile in an interview with the Head of the Pediatric Unit Dr. Alhassan Abdul Mumin, he indicated that in 2018 alone, a total of 2,300 babies were admitted and about 50% of the number were pre-term cases. On average, some of these pre-term babies stay on admission for over 3 months, causing overcrowding which then leads to 2 babies sharing one incubator in the Intensive Care Unit, he added.
According to him, the unit will need a total of 20 incubators to help lessen the plight of these innocent children.
Dr. Alhassan noted that the 2 more donation makes the total incubators in the unit 13 but noted that , the unit will need 20 to help ease the burden at the unit.
An appeal was made to other charitable organisations, corporate bodies and philanthropists to emulate the effort of the Kokrokoo Charities Foundation.
Source: Fiilafmonline / Shawana Yussif