Highways Authority beats 48hr ultimatum to fix Wa-Tumu-Bolgatanga road
Passengers plying the Wa-Tumu-Bolgantanga long stretch of road will no longer face the difficulties associated with travelling on the road.
The Ghana Highways Authority has worked above itself to beat a 48-hour ultimatum given to them by the Roads and Highways Minister, Kwasi Amoako-Atta, to fix the poor road.
The road was washed-off following torrential rains in the area resulting in a nearby river overflowing its banks.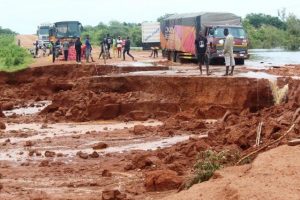 The Roads and Highways Minister, Kwasi Amoako-Atta, his deputy Anthony Nyoh Abayifaa Karbo and officials of the Ghana Highway Authority led by their acting chief executive officer, Nicholas Brown, visited the site to assess the extent of damage on the road and the impact on the travelling public.  "We are going to support with all the resources available be it human, material or monetary. This is an emergency situation and any emergency requires emergency solutions. The people definitely have suffered the past three, four or five days and within this two days, I want to charge you particularly the chief executive officer of the khan highways authority to fix it," the Roads and Highways Minister stated.
Officials of the Ghana Highways Authority then went into action working day and nights to enable them to meet the 48-hour deadline.
Upper West Regional Director of the Ghana Highways Authority, Engineer Thomas Kofi Oppong-Baah, is happy that they have been able to work to fix the road before the stipulated 48-hour deadline.
"My job is to provide services for people to move freely. The fact that vehicles are able to move in and out of the region, I am satisfied." the excited Engineer told JoyNews.
"We are going to construct a spillway so that in any future occurrence, the spillway will take the water across the road," he added.
The Wa-Tumu-Bolgantanga road is one of many road projects in the Upper West Region that the government said is high on their agenda and committed to fixing.
However very little has been seen by people to that effect as some have been abandoned by the contractors for non-payments.
Source: myjoyonline.com