GPHA gives 10,000 Mathematics textbooks to SHSs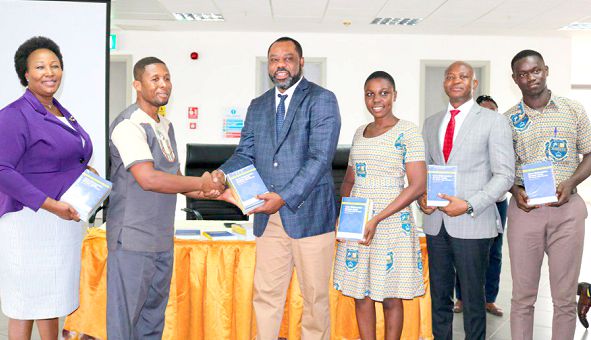 The Ghana Ports and Harbours Authority (GPHA) has presented 10,000 copies of Mathematics textbooks valued at GH¢400,000 to selected schools in the Southern Zone of the country.
The beneficiary schools are the West Africa SHS, Ashaiman SHS, Peki SHS, Tema Technical Institute, Ogua Secondary Technical, Chemu SHS, Gomoa Sec Tech and the OLAM SHS.
Other beneficiaries include, Tema Technical Institute, Tema Presbyterian Senior High, Tema Methodist Day Senior High School, West Africa Senior High School, Kinbu SHS, Nanfana SHS in the Brong Ahafo Region, Hohoe E.P SHS among others.
In all, a total of 100 second cycle schools nationwide would benefit under the project which is aimed at transforming the teaching and learning of Mathematics in second cycle schools across the country.
The acting Director General (DG) of the GPHA, Mr Michael Luguje, said the authority's resolve to support the improvement of education in the sector was informed by its quest to equip students to excel at the subject which was key to the industry they operated in.
He indicated that a needs assessment done by the authority identified Mathematics education as a top requirement to enable people to work in the industry, which required the need for Science and Maths education for future generations to be able to work.
Mr Luguje observed that the lack of materials to teach the subject was equally impacting the pass rates in many schools"We believe that Mathematics, when well taught with the needed teaching and learning materials becomes easily understandable, hence our resolve to be part of the solution", Mr Luguje stressed.
Major problem
The Minister of Education, Dr Mathew Opoku-Prempeh, who was at the distribution ceremony, pointed out that Mathematics had become a major problem facing the country with the pass rates estimated between 25 and 30 per cent.
Thus, government is seeking ways of adopting creativity to inspire students and ignite their interest in the subject,
Government, he stated, would soon introduce Science, Technology, Engineering and Mathematics (STEM) education at the basic level to increase children's interest in the subject before climbing the educational ladder.
"Under the project, 10 STEM centres would be constructed in each of the 10 regional capitals, as well as retooling already existing science laboratories in the various senior high schools to provide students the needed information to excel under the programme", Dr Opoku-Prempeh stated.
Beneficiary schools
The Headmaster of Peki SHS, Mr Jonathan Delase Agbley, who spoke on behalf of the beneficiary schools, indicated that Mathematics continued to be a challenge in most public schools nationwide, a situation, which, he said, required a holistic approach to address.
Source: Fiilafmonline/Graphic