Even distribution of state resources not negotiable – Akufo-Addo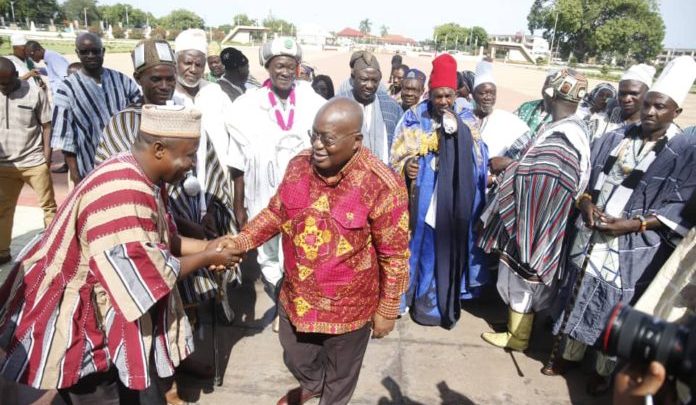 President Akufo-Addo has sent a Strong signal that the even distribution of State resources across all the sixteen regions of Ghana is not negotiable.
Addressing the delegation of the Wala Traditional Council at the Jubilee House when they paid a courtesy call on him, President Akufo-Addo said government is doing everything within its power to ensure that every Region in the country gets a fair share of development.
"We are making sure that across the country, the road development that are taking place touch every region in Ghana. No region is going to be left out, we are not going to discriminate in the award of contracts in the rehabilitation of our road network" President Akufo Addo said in response to a request by the delegation of the Wala Traditional area, asking for roads in the Wa township to be given a phase lift.
In the address of the Wa Naa, Fuseini Seidu Pelpuo IV, read on his s behalf by his Secretary, Jinpenhi Naa Kadri Ibrahim, the traditional ruler also requested of the President to expedite the action aimed at completing the process of making the Wa Campus of the University of Development Studies (UDS), an autonomous University.
The conversion of the Wa Polytechnic into a technical university as well as the expansion and the giving of a facelift to the Wa Regional hospital was also put forward by the delegation. Additionally, the commercialization of the Wa airport and a proposal to split the Wa Municipal Assembly into two to bring local governance closer to the people of the area were also tabled before the President by his visitors.
They extended an invitation to the President to be their special guest of honour for the celebration of the Centenary Anniversary of the annual Dumba Festival in 2020.
President Akufo Addo in response to all the request and suggestions made by the delegation indicated that all the interest they have articulated before him will be given the requisite attention it deserves. Those that are on going, the President assured the delegation that, they will be followed through to give them full effect.
The President in response to the invitation said there is plenty of time to organize himself and once his programme allows him, he will be in Wa to celebrate the Dumba Festival with the people of Wa.
Source: starrfmonline.com