Brexit: Theresa May to make plea for 30 June delay at EU summit
EU leaders will meet at 17:00 BST for an emergency summit in Brussels to decide whether to offer the UK another delay to Brexit.
Theresa May wants to postpone the UK's exit beyond this Friday, until 30 June.
But the EU is expected to offer a longer delay, after European Council President Donald Tusk urged the other 27 leaders to back a flexible extension of up to a year – with conditions.
Mr Tusk added that "neither side should be allowed to feel humiliated".
Leaders will begin arriving at the summit from 16:00.
Earlier, Mrs May appeared in the Commons for the weekly question session with opposition leader Jeremy Corbyn at Prime Minister's Questions.
That head-to-head followed five days of talks between the government and Labour officials aimed at breaking the Brexit impasse.
The 1922 Committee – made up of Tory backbench MPs – will also meet at 17:00, with some members seeking a firm date for Mrs May to step down as leader of the party.
The UK is currently due to leave the EU at 23:00 BST on Friday, 12 April.
If no extension is granted, the default position would be for the UK to leave on Friday without a deal.
So far, UK MPs have rejected the withdrawal agreement Mrs May reached with other European leaders last year.
But the Commons has also voted against leaving in a no-deal scenario.
To prevent this happening, a group of backbench MPs managed to get a bill through Parliament to force Mrs May to ask for an extension to Article 50 – the process that defines the UK exit date – by law.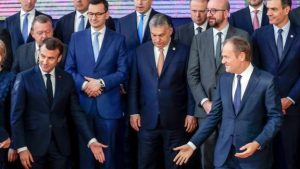 Mrs May will ask EU leaders to extend the exit date until 30 June.
BBC political editor Laura Kuenssberg said the PM had to convince EU leaders about the credibility of talks with Labour and prove they were "a genuine political plan that has a chance of getting the UK out of this maze".
Every EU member state needs to agree on any delay before it can be granted.
So, at the summit – which begins at about 18:00 local time (17:00 BST) on Wednesday evening – Mrs May will formally present her case for a short delay, with the option for the UK to leave earlier if her Brexit deal is ratified.
The other EU leaders will then have dinner without her and discuss how to respond.
EU Council President Donald Tusk and European Commission President Jean-Claude Juncker are expected to make statements afterwards.
In a formal letter to the leaders on the eve of the summit, Mr Tusk proposed a longer, flexible extension – although "no longer than one year" – to avoid creating more cliff-edge extensions or emergency summits in the future.
Any delay should have conditions attached, he said – including that there would be no reopening of the withdrawal agreement talks. And the UK would have the option to leave earlier if a Brexit deal was ratified.
Referring to Mrs May's proposal for an extension until the end of June, Mr Tusk said there was "little reason to believe" that Mrs May's deal could be ratified by then.
And if the European Council did not agree on an extension at all, "there would be a risk of an accidental no-deal Brexit", he added.
Mr Tusk also warned that "neither side should be allowed to feel humiliated at any stage in this difficult process".
EU officials have also prepared a draft document for the leaders to discuss at the summit – but the end date of the delay has been left blank for the EU leaders to fill in once deliberations have ended.
BBC Europe editor Katya Adler said the blank space showed EU leaders were still divided on the issue.
Source:Fiilafmonline/BBC