450-seater chamber: Ernesto Yeboah, two others arrested for disrupting parliament sitting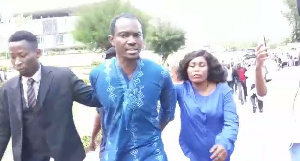 Former Youth Organizer of the CPP, Ernesto Yeboah was arrested Friday morning when he disrupted sitting to vent his anger over plans for a new chamber.
The leader of the Economic Fighters League who was sitting at the public gallery when Member of Parliament for Adansi Asokwa, K.T. Hammond was on the floor speaking about the proposal of a new parliamentary chamber got up and screamed "we don't need any chamber. Stop this nonsense talk and drop that chamber".
He was bundled out of the chamber together with another member of the group.
"Drop that chamber," Ernesto Yeboah kept chanting as he was led to the Parliament police station in handcuffs.
He told the media that "We are fighting for all of you, if you lack the courage to say it we shall say it for you and we shall take the penalties thereof".
Background
Ghanaians have criticised plans to construct a new 450-chamber for Ghana's legislator on various social media platforms.
The decision to build a new chamber estimated to cost $200 million has been met with intense opposition from Ghanaians as well as civil society groups.
Some lawmakers, especially from the Minority side, like the MP for North Tongu, Mr Samuel Okudzeto Ablakwa; Ras Mubarak, MP for Kumbungu; and Tamale North MP Alhassan Suhuyini, have described the move as needless.
Also, some lawmakers from the Majority side, including Samuel Ayeh-Paye, Ayensuano; and Mr Patrick Boamah, Okaikwei Central, have also said a new chamber is not necessary for now.
However, the Majority Leader of Parliament, Osei Kyei-Mensah-Bonsu has been justifying the need for a new chamber.
Source: Fiilafmonline/Ghanaweb