Dr. Anyars campaigns for He4She under the Pad4All project
The Repairer Foundation in collaboration with Angeles foundation has reached out to some Ghanaians in the 16 regions of the country, with the Pad4All project.
The project which is aimed at drumming home the need for mensural hygiene will be stopping in every region across the country to educate Ghanaians about the need for proper mensural hygiene at all times.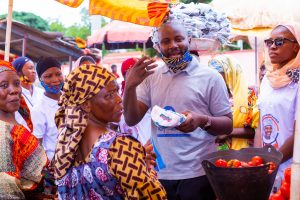 In his submission the NPP Parliamentary Candidate for Tamale Central, Dr. Ibrahim Imoro Anyars who doubles as the founder of the Repairer Foundation, noted the need for men to find keen interest in the mensural needs of women especially the girl child.
This according to him will foster some desire in the men to support our vulnerable women and children with the needed hygiene products during their menstrual cycle.
He added that the issue of female hygiene is a daily issue either with or without covid-19, hence the need to find some interest and support women during this difficult times.
As a man leading the He4She initiative, he urged other men to support women during these times of challenges and even more.
Meanwhile the founder of Angeles Foundation, Kobi Hemaa Osisiadan-Bekoe in an interview with FiilaNews noted that the project is aimed at supporting the vulnerable girl child with sanitary pad for usage when it is that time of the month.
Mrs. Osisiadan-Bekoe is certain that issues confronting the girl child are mostly caused by the opposite sex, hence the need for the men to join the fight against mensural hygiene. A total of 1000 women were gifted with mensural hygiene products and education.
The gesture took place at the Aboabo and Central markets respectively and the train will be stopped at some selected communities within the region to replicate the kind gesture.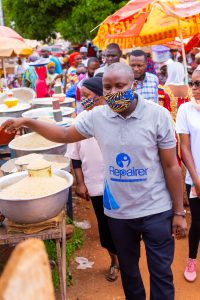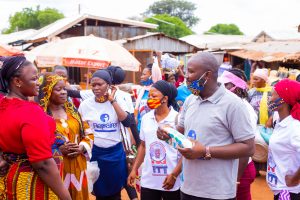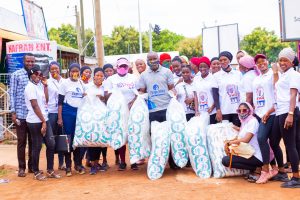 Source:Fiilafmonline/ShawanaYussif