Surety for 'missing' Helena Huang to be dragged to court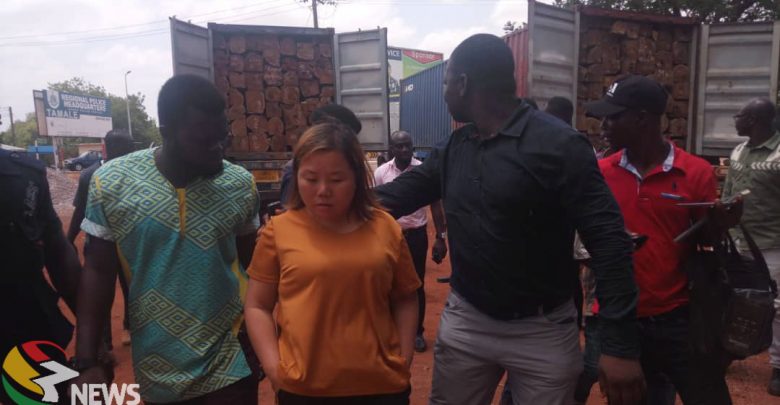 The surety, who stood for Helena Huang's bail, will soon be dragged to the High Court in Tamale if he fails to produce the suspect.
The Chinese national was arrested for attempting to smuggle four containers of Rosewood.
Helena Huang has so far failed to report herself to the police as required after she was granted a police enquiry bail on Tuesday.
The Northern Regional Police Command has subsequently filed a summon notice at the High Court to compel the surety to produce the suspect.
"The suspect has failed to report herself to the Police so we are going to invoke Section 104 (1) of the criminal procedure Act 30. We have gone to court this morning, praying the court to grant our request for the recognizance to be forfeited on the surety so we are hopeful that by Monday, the surety will be put before court for the court to compel him to produce a suspect or any other details that the court may deem fit."
A Chinese woman, Helena Huang was arrested on Tuesday in Tamale for attempting to smuggle four containers of Rosewood.
The Police say they intercepted two trucks in Tamale loaded with two containers of rosewood belonging to the Chinese national.
According to the Northern Regional Police Crime Officer, Superintendent Otuo Acheampong, Helena Huang failed to produce her passport and other documents to show that she legally acquired the products.
"Our officers at one of our barriers in Tamale intercepted two trucks loaded with four containers of rosewood and informed the command.
"The exhibits were escorted to the police station and preliminary investigations indicated that one Chinese lady, Helena Huang claimed she is the owner of the rosewood and was escorting the product to Tema. Our initial investigation also established that she did not have enough measurement and conveyor certificate as well as a lumber inspection."
The Ministry of Lands and Natural Resources in March directed the Forestry Commission to ban the harvesting of Rosewood in the country earlier this year.
Source: citifmonline.com