Gov't forms committee to disburse cash to June 3 disaster victims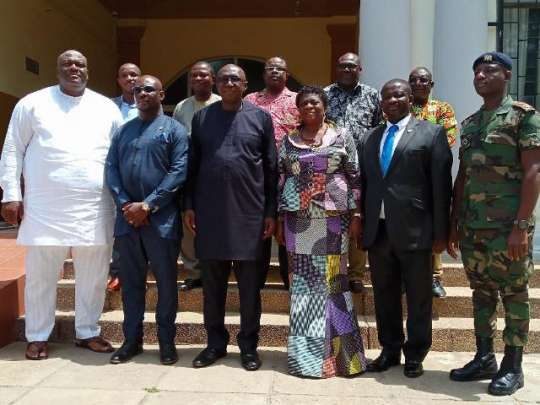 Ambrose Dery, Interior Minister on Tuesday, inaugurated a Special Disbursement Committee to disburse monies raised for victims of the June 3, 2015 disaster.
On June 3, 2015, the country experienced a major disaster, which resulted in the loss of many lives and property.
The incident was as a result of heavy torrential rainfall, which started in the late hours of Tuesday 2nd June and continued into June 3, 2015, leading to severe flooding in several parts of the country and Accra being the worst affected.
The flood waters resulted in the loss of several lives and destruction of property worth thousands of cedis.
The seven-member Committee is under the Chairmanship of Mr Seji Saji, the Deputy Director-General in-charge of Technical and Reforms at the National Disaster Management Organisation (NADMO).
Mr Dery said NADMO together with the other security agencies evacuated the injured persons for medical attention and the dead to the mortuaries of the 37 Military Hospital, Police Hospital, Korle-Bu Teaching Hospital
He said the Government responded through NADMO by providing support for the victims of both the flood and the fire incidents.
Mr Dery noted that the 160 fatalities and 65 victims with various degrees of burn/injury needed special care.
He said out of the total number of deaths, only 110 were identified and claimed by families for burial.
He said the Government supported 96 out of the 110 bereaved families with an amount of GH¢10, 000.00 each towards the burial and funeral rites.
The Minister said the remaining 14 families were not compensated due to uncertainties surrounding their next of kin.
Mr Dery charged the Committee to disburse all monies raised to the victims and to disburse the Benin Government's $200,000 support fund too.
He also tasked the Committee to collaborate with all groups, organisations and NGOs that raised funds in support of the victims to know how much had been raised, and if it was enough to be disbursed or there was the need for more funds to be raised in support of the victims.
He urged the Committee to ensure transparency in the execution of its mandate.
Source: Fiilafmonline/Citi