Bugri Naabu pledges to woo investors to support development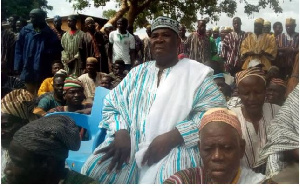 The newly-enskinned Paramount Chief of the Namong traditional area in the Yunyoo district of the North East Region, Mr Bugri Naabu known by his skin name Namong Daan II, has pledged to lure NGOs and international businesses to invest in the area to spur development.
Mr Naabu said as a chief, he will not only rely on the government for development but also use his connections outside the shores of the country to travel and meet with NGOs and other private investors to help develop the area.
According to Mr Naabu, the area is impoverished. He said the erstwhile John Mahama administration started the construction of a senior high school in the community but the project has been abandoned.
"If John Mahama started the construction of the senior high school and today the project is abandoned when my own party is in government, I will ensure they revive the contract and the contractor comes back to the site and complete it," he stated.
The outspoken chief, who was enskinned by the Overlord of the Mamprugu traditional area, Nayiri Mahami Abdulai Bohagu Shariga, made this known to the media after his successful coronation on Saturday, 29 June 2019 in Nalerigu.
Mr Naabu promised to extend electricity to the area, saying, he will meet Energy Minister John Peter Amewu and his Deputy Dr Amin Adam to that end.
Talking about healthcare, Mr Naabu noted that the only health facility serving the people is the Baptist Medical Centre in Nalerigu and promised to liaise with the government to ensure the health ministry and the Ghana Health Service put up a polyclinic to improve access to healthcare in the area.
Asked if he would quit politics now that he is a chief, Mr Naabu said: "We don't quit politics like that; I don't think even if I tell you that I'm quitting politics, you'll even believe me."
He noted that he may not be able to mount political platforms but cannot pretend he is not affiliated to the NPP, adding that the late Tolon Naa Yakubu Tali, S.D. Dombo, among others, were chiefs who were affiliated to political parties.
Source: Fiilafmonline/GhanaWeb