Asawase NDC protest Muntaka going unopposed
Akosua Boakye
September 6, 2019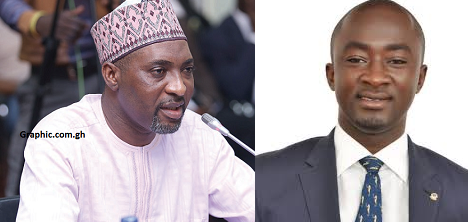 The discontent within the rank and file of the National Democratic Congress (NDC) in the Asawase Constituency of the Ashanti Region over the disqualification of an aspirant, Masawudu Mubarick, by the party has heightened, with some of his supporters storming the party's regional office to register their protest.
In the event, they burnt tyres and sang songs of protest indicating that they were against the decision of the party to suspend Mr Mubarick.
The protesters threatened to vote 'skirt and blouse' in the 2020 general election if the executives did not rescind their decision to disqualify their preferred choice.
According to them, the current MP had overstayed his 'welcome' and it was time for a new person to take over; as such, Mubarick should be allowed to contest him and go on to win the seat for the NDC.
They claimed that the decision by the leadership of the party to allow Alhaji Muntakar to go unopposed was an attempt to hand over the seat to the New Patriotic Party (NPP) candidate on a silver platter.
Meanwhile, the leadership in the region has appealed to all aggrieved parties to exercise restraint and not to resort to violence.
The Regional Secretary of the party, Mr Kwame Zu, said the party would soon engage all the aggrieved persons to find a lasting solution that would ensure that the interest of the party remained paramount.
Official disqualification
The NDC last Tuesday declared the incumbent Member of Parliament (MP) for the Asawase Constituency, Alhaji Mohammed Muntaka Mubarak, as elected to contest the 2020 parliamentary election of the party unopposed.
A release signed by the General Secretary of the NDC, Mr Johnson Asiedu Nketiah, last Tuesday said the decision to disqualify Mr Mubarick followed the acceptance of the report of the committee for settlement of outstanding disputes which was chaired by the former Speaker of Parliament, Mr Edward Doe Adjaho, after it sat on Tuesday, September 3, 2019.
The statement said, "By this decision, Muntaka Mubarak goes unopposed and for that matter stands elected as the parliamentary candidate for the Asawase Constituency."
The NDC currently has three parliamentary seats in the Ashanti Region. They are Asawase, Sekyere Afram Plains and Ejura Sekyedumase.
When the Daily Graphic contacted Mubarick around 11 a.m. via telephone, he said he was impressing on his supporters to remain calm as steps were being taken to address the issue of his disqualification.
Asked what formed the basis of his disqualification, he said he had not yet received a physical copy of the said letter that disqualified him, noting that he received a call from one of the executive members of the constituency saying a photo of the letter would be sent to him via whatsapp.
On calls by some of his supporters for him to go independent, he said it was too early, adding that he still had faith in the party to take another consideration of its decision and to take the appropriate steps to address any anomaly.
Source: Graphic.com.gh