Women caucus to push for review of Standing Orders of Parliament
Akosua Boakye
August 9, 2019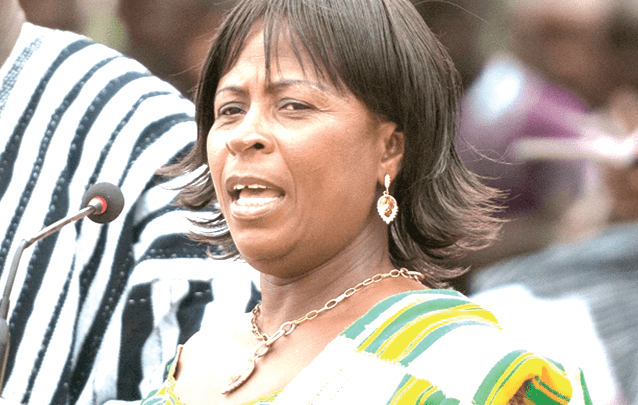 The Women Caucus in Ghana's Parliament has indicated that it will push for a review of the Standing Orders of Parliament to allow female Members of Parliament (MPs) to enter Parliament with their babies.
There are 38 female MPs out of the 275 MPs in Ghana's Parliament.
Wake up call
The Vice Chairperson of the caucus, Mrs Comfort Doyoe Cudjoe Ghansah, told the Daily Graphic in Accra that last Wednesday's incident where the Speaker of Parliament in Kenya ordered security officers to drive a female MP, Mrs Zuleika Hassan, out of Parliament because she was carrying a baby was a wake-up call for Ghana's Parliament to avoid such an embarrassment.
The move to push for a review of the Standing Orders of Parliament was to encourage young politicians to vie for parliamentary seats and avoid any embarrassment to female MPs.
According to the Standing Orders of Ghana's Parliament, "stranger means any person other than the President, Vice-President, Mr Speaker, Ministers and Deputy Minister who are not Members of the House, a member or an officer of the House".
Kenyan incident
Mrs Hassan said she had brought her five-month-old baby with her to work because of a domestic emergency, but Parliament did not have a creche.
According to the rules of the House, "strangers" are not allowed into the Chamber, children included.
Speaker Christopher Omulele ordered Ms Hassan out of the Chamber and said that she could return without the baby.
Following that order, female MPs walked out of Kenya's Parliament in solidarity with their colleague.
In 2018, New Zealand's Prime Minister Jacinda Arden was the first female world leader to take her baby, three-month-old Neve Te Aroha, to the United Nations General Assembly in New York.
Women's support
Mrs Cudjoe Ghansah, who is the National Democratic Congress (NDC) Member of Parliament (MP) for Ada and Second Deputy Minority Whip, said she could not directly condemn the action of the Speaker of Kenya's Parliament if the Standing Orders had categorised babies as strangers.
She said if the female MP had consulted with the leadership of Parliament before entering with the baby, then the Speaker could be faulted for driving her out with the baby.
Mrs Ghansah said if the Standing Orders had captured babies as strangers, then the female MPs needed to come out boldly to initiate processes to encourage more women to enter Parliament.
She said if babies were too young, their mothers could not keep them away, and so there was the need for female MPs to be encouraged to enter Parliament with their babies to give them the necessary comfort.
The legislator said allowing more female MPs to enter Parliament with their babies would encourage more young women to aspire for parliamentary seats and bridge the male-female gap in Parliament.
Gender activist reacts
In a related development, Rebecca Quaicoe Duho writes that a gender activist, Mrs Sheila Minkah-Premo, has condemned the action of Kenyan's Parliament.
She described the incident as unacceptable and called for reforms in the various Parliaments across the world to accommodate the reproductive roles of women.
According to her, South Africa had a perfect system where nursing mothers had nurseries where they could keep their babies when Parliament was in session. To ensure that what happened in Kenya did not happen in Ghana, she called on the women caucus in Parliament to start advocating for a nursery for mothers.
She said although women in Ghana's Parliament were few as compared to men, getting a place where nursing mothers could leave their babies and attend to their work in the Chamber could help increase the number of women who wanted to enter Parliament.
Advocacy
Mrs Minkah-Premo, who is the Managing Consultant of Apex Law Consult, called on the women in Parliament to intensify their advocacy and work at roping in men sympathisers who would also advocate for the establishment of the creche.
A Clinical Psychologist and Coordinator for the Coalition on Domestic Violence, Mr Adolf Awuku Bekoe, in a reaction also said the Kenyan Parliament had lost an opportunity to be child-friendly and sensitive.
According to him, what happened in Kenya shows that the Parliament there does not appreciate the reproductive role of women.
He said what happened in that Parliament mirrored the perception of society about women and their reproductive roles.
Mr Bekoe, who is a gender activist, said the moment Kenya's Parliament accepted women into its fold, it should have thought about their reproductive roles and made room for that.
Special spaces
Mr Bekoe, therefore, called on the Kenyan Parliament to make right the wrong by using the opportunity to create such special spaces for women so that they would not be denied their reproductive roles while working in male-dominated spaces.
He called on Ghana's Parliament to take a cue from what happened in Kenya and start making arrangements for such unforeseen circumstances.
According to him, systems and structures should not become roadblocks for women who want to participate in decision making, saying what happened was a classic case of an impediment in the way of women.
Source: Graphic.com.gh