US blacklisting of Houthis 'could tip Yemen into huge famine'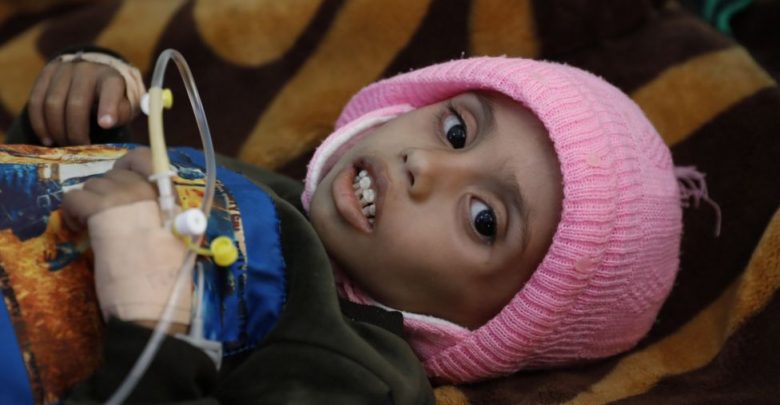 The US plan to designate Yemen's rebel Houthi movement as a terrorist group is likely to trigger a "famine on a scale that we have not seen for nearly 40 years", the UN's aid chief says.
Mark Lowcock will tell the UN Security Council that issuing licences for imports of key supplies for rebel-held areas will not prevent such a disaster.
About 50,000 Yemenis are already "starving to death in what is essentially a small famine", he warns.
Five million more are near starvation.
Yemen has been devastated by a conflict that escalated in 2015, when the Iran-aligned Houthis seized control of large parts of the country and a Saudi-led coalition of Arab states supported by the US launched a military operation to restore President Abdrabbuh Mansour Hadi's rule.
The fighting has reportedly left more than 110,000 people dead and triggered what the UN says is the world's worst humanitarian crisis, with 80% of the population in need of aid or protection.
Mr Pompeo said the aim was to hold the group accountable for "its terrorist acts, including cross-border attacks threatening civilian populations, infrastructure and commercial shipping".
Houthi leader Mohammed Ali al-Houthi accused the Trump administration of terrorism and said the movement reserved the right to respond to any designation.
Mr Pompeo said the US recognised the concerns of aid groups operating in areas under Houthi control, where the bulk of the population lives, and would work to reduce the impact on what he called "certain humanitarian activity and imports into Yemen" by issuing licences and exemptions.
But before Thursday's UN Security Council briefing, Mr Lowcock tweeted: "The US designation of the Houthis as a foreign terrorist organisation could be the final straw that tips Yemen into not just a small famine, but a truly huge one."
Source:Fiilafmonline/BBC