UNDP Launches COVID-19 Recovery Plan and Integrated Assembly Financing Framework for selected MMDAs
The National Development Planning Commission (NDPC) and the Ministry of Finance (MoF), in partnership with UNDP, has on Tuesday 19 January 2021, launched the COVID-19 Recovery Plan and Integrated Assembly Financing Framework for MMDAs in the country.
The initiative which is aimed at supporting five Metropolitan, Municipal and Districts Assemblies (MMDAs) to build back better from the impact of COVID-19 and build better resilience against local and external shocks , will help these assemblies bounce back stronger after the devastating covid pandemic.
The assemblies are Kumasi Metropolitan Assembly, Sagnarigu Municipal Assembly, Ketu South Municipal Assembly, Sefwi Wiawso Municipal Assembly and Kassena Nankana West District Assembly, in Ashanti, Northern, Volta, Western North and Upper East regions of Ghana, respectively.
In an interview with the UNDP Resident Representative in Ghana, Angela Lusigi noted that the launch will help outline the action that needs to be taken by assemblies to help in the recovery process post Covid.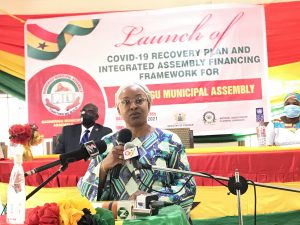 Madam Angela noted that the best thing is to see how to use the pandemic to build back better and get back on track in the achievement of the sustainable development Goals. On financing, she noted that there are many streams of financing to be mobilized in order to help the assemblies work in tandem with the developed framework.
In an interview with FiilaNews, Dr. Kodjo Esseim Mensah – Abrampa, Director General of NDPC, noted that the Integrated Assembly Financing Frameworks (IAFFs) provide concrete measures for mobilizing the financing required to achieve the ambitious Sustainable Development Goals (SDGs). He added that the frameworks' strategies comprise consolidating existing revenues, philanthropic financing, diaspora financing and private-public-partnerships among others.
The bottom-up approach to delivering the Integrated National Financing Frameworks targets directly citizens at the local level of governance and puts SDGs at the heart of local government financing.
The development of the COVID-19 Recovery Plans and the Integrated Assembly Financing Frameworks falls in line with the objectives of the Ghana COVID-19 Alleviation and Revitalization of Enterprises Support (Ghana CARES) programme.
The Ghana CARES Programme is the government's GH₵100 billion comprehensive programme to mitigate the impact of the COVID-19 pandemic and return the country to a sustained path of robust growth.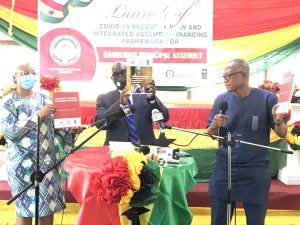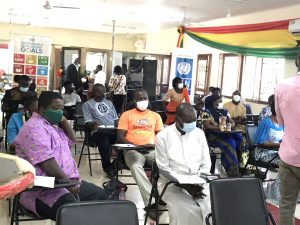 Source:Fiilafmonline/ShawanaYussif