Trump urges China to investigate Bidens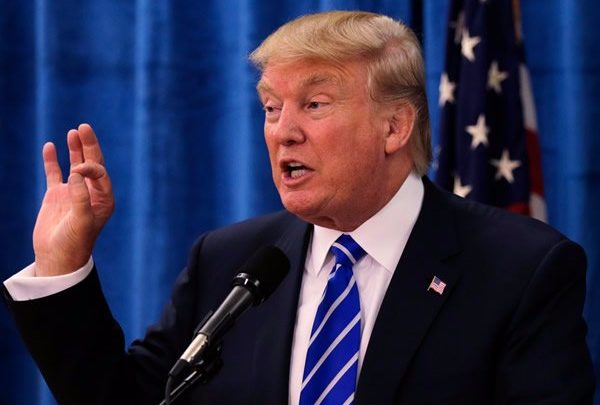 US President Donald Trump, already facing an impeachment inquiry after urging Ukraine to investigate his political rival Joe Biden, has now urged China to do likewise.
He said both China and Ukraine should look into Mr Biden, a Democratic presidential frontrunner, and his son.
"China should start an investigation into the Bidens," said Mr Trump.
The Democrats accuse Mr Trump of dangling military aid as a way to press Ukraine to dig dirt on Mr Biden.
Mr Biden responded by tweeting: "The idea of Donald Trump attacking anyone's integrity is a joke
A 25 July phone call between Mr Trump and Ukrainian President Volodymyr Zelensky triggered an intelligence community whistleblower complaint and the impeachment inquiry.
But Mr Trump said on Thursday that the inquiry, which could culminate in a congressional attempt to remove him from office, is "crap".
In a late-night tweet, Mr Trump added that he had a duty to investigate alleged corruption "and that would include asking, or suggesting, other countries to help us out!"
What has Trump accused the Bidens of doing?
Mr Trump has accused Mr Biden and his son Hunter of corruption in their political and business dealings in Ukraine and China, without offering specific evidence.
When Hunter Biden joined Ukrainian natural gas company Burisma in 2014, questions were raised about a potential conflict of interest for his father.
Ukraine was undergoing a political transition after its pro-Russia president was forced out of office, while the elder Biden was the Obama administration's point man for the Eastern European country.
In 2016, Joe Biden pushed the Ukrainian government to fire its top prosecutor, Viktor Shokin, whose office had been scrutinising the oligarch owner of Burisma.
In a speech last year at a think tank, Mr Biden boasted of having forced Mr Shokin out by threatening to withhold a billion-dollar loan guarantee to Ukraine.
Mr Trump and his allies accuse Mr Biden of acting to protect his son. However, other Western officials and major financers of Ukraine's government also wanted Mr Shokin dismissed because he was seen as a barrier to anti-corruption efforts.
Last week, the Ukrainian prosecutor general who took over from Mr Shokin told the BBC there was no evidence of wrongdoing by Joe or Hunter Biden.
What did Trump say on Thursday?
When asked what Mr Trump sought as a "favour" from Ukrainian President Volodymyr Zelensky in this summer's phone call, Mr Trump responded: "Well, I would think that if they were honest about it, they'd start a major investigation into the Bidens. It's a very simple answer.
"They should investigate the Bidens," he said, speaking to reporters on the lawn of the White House.
"Likewise, China should start an investigation into the Bidens because what happened to China is just about as bad as what happened with Ukraine," he continued.
Mr Trump also suggested again without offering evidence that Mr Biden had "scammed" other countries and was responsible for China's "sweetheart" trade relationship with the US.
The head of the Federal Election Commission responded by tweeting a reminder that it is illegal for anyone to solicit anything of value from a foreign national in connection with a US election.