Total register Drivers on its Troxi-Club
Commercial drivers within the Northern region have been hooked onto the Total Troxi Club, a beneficial club purposely designed for commercial drivers by the oil marketing giant Total Petroleum.
Total Petroleum Ghana Limited in 2018 launched the Total Troxi Club a special Total Card package for Ghanaian commercial drivers to enable them buy fuel and other lubricants at a cheaper price from all total service stations across the country.
The innovative Total card, will give commercial drivers and motorists a two pesewas per litre discount for fuel purchase and five percent discount for lubricants purchased helping to save more.
The card will also track purchases made by drivers to allow them win prizes on a monthly basis.
Speaking in an interview with FiilaNews during a float through the principal streets of Tamale to remind commercial drivers about the Total Troxi Club, the Area Manager of Total Ghana Limited for the Northern Area, Mr. Luke Kojo Asamoah said, active users of the Troxi Club stand to gain on various levels including an insurance cover which has a total cover to the tune of 6,000 Ghana Cedis, among several other benefits for Troxi Club Members.
He further indicated that as Total petroleum fuel cleans engines every kilometer after kilometer, the company also has its customers at heart thereby outlining policies that rewards drivers as they use their products which is healthy to their vehicles.
meanwhile the troxi-club trail made its next stop in the Upper West Region last Friday to get interested individual on the club to enable them benefit from the enormous advantages that coms along with being a member of the Troxi Club.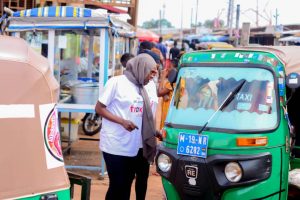 Source:Fiilafmonline/ShawanaYussif