Tamale Police Assigned to arrest Offenders of Safety Protocols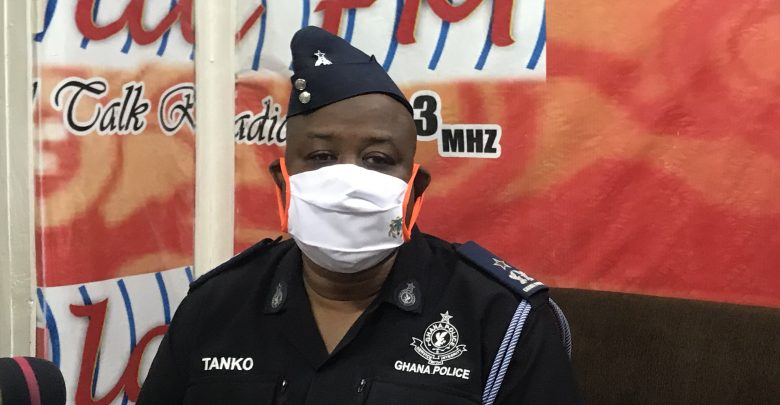 The Tamale District Commander of the Ghana Police Service, Chief Superintendent Iddrisu Tanko Issifu, had revealed that their men have been deployed to arrest members of the public who default safety protocol on wearing of face mask in public.
He noted that though the law was passed last year,its implementation has become necessary now, as the case count keep surging on daily basis.
According to the District commander, they started arresting their own kind, the police, since last week and they're now extending these arrests to the general public.
He revealed in an interview with Akosua Kwatemaa Boakye, on FiilaFm's morning show that, as many as 66 residents of Tamale were arrested Monday,January 25,2021, for refusing to wear a mask or wrongfully wearing of same.
The Commander believes that many of the  citizenry are being affected by the virus due to our own ignorance and negligence,hence the need to use arrests to get people to do the right thing.
He further indicated that the actions of the police in arresting people who violate the law, has cause a shoot in the usage of the mask which according to him is a step in the right direction. "I can say over 80% of the General public now uses mask regularly and that can be attributed to the arrest started by the police in recent times".
On the punitive measures Chief Superintendent Tanko Issifu indicated that first time violators were given a warning letter and made to understand that the court will deal with them should they fall foul the second time in this same regard .
The law on nose mask makes exception to people with medical condition that  makes wearing of mask more harmful to their health.
Even so, Mr Tanko noted that in such situations the person is supposed have a medical report on why they can't mask up,and also desist from public places. He reminded citizens that the enforcement exercise started by the police service, will continue until the country records zero active cases of covid-19.
He made a passionate appeal to the citizenry to make it a responsibility to always mask up because anyone caught for failing to exercise the safety protocols shall face the full rigors of the law.
Source:Fiilafmonline/ShawanaYussif