Some hospitals to go paperless by December – Akufo-Addo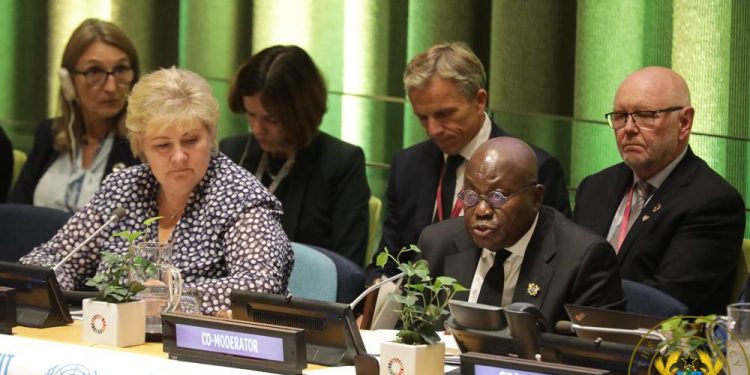 President Akufo-Addo has given assurances that some hospitals in Ghana will go paperless by the end of the year as part of efforts to improve healthcare delivery in the country.
He made the disclosure during an address at the launch of the Global Action Plan for Healthy Lives and Wellbeing on the sidelines of the ongoing UN General Assembly Meeting in New York.
Akufo-Addo told the gathering that Ghana has made significant strides in ensuring improved access and quality of healthcare delivery to citizens and adopted some technologies to make it possible.
The president however did not give details about the specific hospitals that are expected to go paperless by the end of 2019.
The government has given indications of its drive to digitize the economy and reduce the level of human interference in the delivery of some key services in the country.
President Akufo-Addo said one of the major ways technology has been adopted to improve healthcare in the country is the roll-out of the first phase of the medical drone delivery service which is part of the development of a "comprehensive healthcare package to ensure access to health services in our remote areas."
The Global Action Plan for Healthy Lives and Wellbeing which countries such as Ghana has committed to, is focused on seven major themes which are common challenges faced by other countries and UN agencies are resourced to help them address.
The Action Plan, being coordinated by the World Health Organization was in response to a call from Ghana, Germany and Norway for more effective collaboration and coordination among global health organizations to achieve the health-related SDGs.
Source:Fiilafmonline/CitiNews