Smocky world and Partners to take 5th philanthropic work to 10 orphanages in Ghana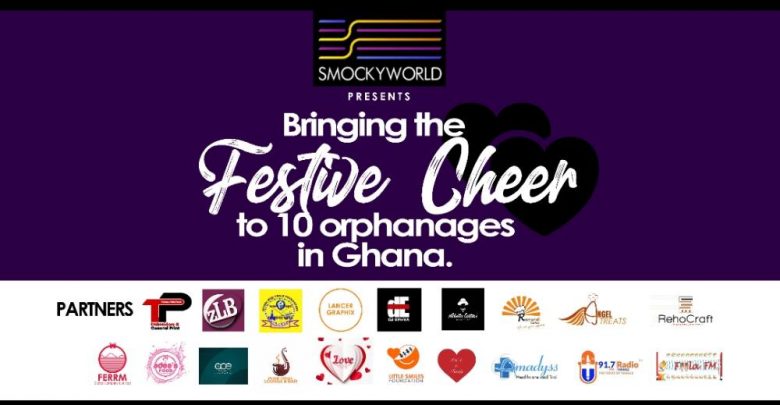 Smocky world and its partners will on Saturday, 16th Jan 2021, visit some selected orphanages to provide a treat of delicious meals and other goodies to the inmates as part of its 5th Anniversary to giving back to society.
The event christened "Bringing Cheers to 10 Orphanages in Ghana" will see the team of philanthropist visit these orphanages in groups simultaneously, to touch the lives of these less privileged ones in the orphanages.
Speaking in an interview with FiilaFm's Akosua Kwatemaa Boakye (Host of Morning show), the Founder of Smocky world Mrs. Gertrude Kunde Kwallinjam indicated that this year, smocky world and it's over 20 partners decided to extend their scope to cover other regions in the country.
"This year, we will be doing this same benevolence in other regions with support from our partners who came on board. We will visit 10 orphanages in three regions to touch lives".
Though we wanted to do it all across the country, our partners don't seem available on the designated date and time in the other regions, so we've limited to cover Northern region, Greater Accra and Central Regions, Mrs. Kunde Kwalinjam indicated.
Asked how the initiative is being funded, Mrs. Gertrude Kunde Kwallinjam noted that the incoming support has been amazing and it goes a long way to show how committed individuals are, to support the needy in society in their own little ways.
On the list of partners, the Founder of Smocky world extended her appreciation to all the over 20 individuals and organizations supporting to make the outreach massive for the beneficiary orphanages.
For the past five years, Smocky world had led varied events on yearly basis to give back to society. Some of these are a donation to the Sang Nazareth Children's Home in 2017, a donation  to the Children's Ward of Tamale Teaching Hospital in 2018, a cash and items donation to Dr. Abdullai's Hospital in Tamale, all solely funded by smocky world. The rest are a massive event aimed at feeding 500 street children which ended up with 2000 children being fed and treated to hilarious face panting art among other fun activities by smocky world and its partners.
The kids will be served food, snacks, toffees among several others and the charity event will be climaxed with a donation of clothes, food items, Detergents among several others for their upkeep.
Source:Fiilafmonline/ShawanaYussif