Police cautions against attacks on Nigerian spare parts dealers at Suame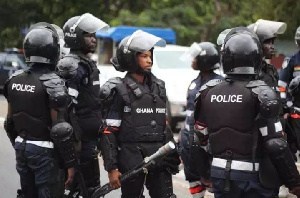 The Ashanti Regional Police Command has issued a stern warning to Ghanaian spare parts dealers at Suame in Kumasi to desist from unprovoked attacks on their Nigerian counterparts.
The warning follows recent attacks and in some instances, closure of shops belonging to the foreign traders at the Suame Magazine area.
Assistant Superintendent of Police (ASP) Godwin Ahianyo, the Public Relations Officer (PRO) of the Regional Police Command at a media briefing in Kumasi, said the law would deal with persons and individuals who would embark on illegal demonstrations or attack Nigerians doing their legitimate business.
He said the police was taken by surprise after executives of the Ghana Union of Traders Association (GUTA) had assured them that there would be no more disturbances only for their members to lock up shops belonging to the Nigerians on Wednesday morning.
ASP Ahianyo announced an impending meeting between the police, local and national executives of GUTA as well as the Nigerian community to find amicable solution to the impasse.
He was optimistic that peace would return to Suame after the meeting and urged the leadership of GUTA to impress on their members to exercise restraint ahead of the stakeholder meeting.
The alleged attacks at the Suame spare parts and a mechanical enclave in Kumasi begun on Monday, forcing Nigerian businessmen engaged in retail trading to close their shops.
The police intervene and mounted day and night patrols in the area, hoping to restore law.
ASP Godwin Ahianyo said the police was continuing the patrol and monitoring exercise to ensure that peace returned to the area for normal business activities to continue.
Source: ghananewsagency.org