Over 170 communities in Northern GHana to be hooked onto the National Grid
Government through the Ministry of Energy has given approval for a total of 174 communities in the Northern, Savanna and North East Regions to be hooked onto the national grid.
The Government of Ghana (GoG) fully funded project which is estimated at US$50 million will connect several communities to the national grid, benefiting about 16,000 households.
The 24-month long project has received both cabinet and parliamentary approvals and will be executed by Tropical Cable & Conductor Limited (TCCL).
The Deputy Ministee of Energy , William Owuraku Aidoo made the disclosure at a ceremony organized by the regional coordinating council which had chiefs and community members of beneficiary communities in attendance.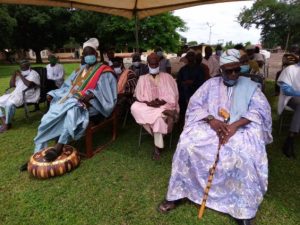 In his submission, Mr. Owuraku Aidoo indicated that the Ministry of Energy is making effort to bring the access rate of 70.21% in the NORTHERN region to be at par with the National Average of 85.17%.
"In view of this a number of electrification projects have been awarded under contract to connect some communities to the national electricity grid". Presently, there are two different electrification project packages being executed in the Northern region.
This will increase to three after this launch of the new one.
The minister noted that the packages are under the Hunan Construction Group Corporation and the Ministry of Energy's Self-Help Electrification Project (SHEP-4 & SHEP-5) programme.
A total of 1200 communities in   18 districts in the region is said to benefit from this project when completed in 24 months.
Mr Aidoo indicated that as part of interventions to reduce poverty in rural areas and increase the overal socio economic development of the country, the National Electrification Scheme was initiated by the Ministry of Energy with the aim of extending the reach of electricity to all parts of the country by the year 2020.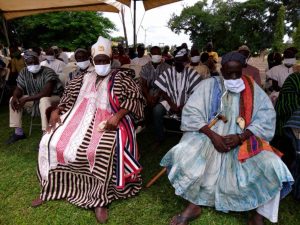 He revealed that when the scheme started in 1992, only 478 communities were connected to the national electricity grid.
However, over 11,000 communities had been connected to the national grid presently, representing  for about 85 per cent of Ghanaians who have access to electricity.
The Regional Minister Salifu Saeed who was also in attendance underscored the need for prolonged peace to help woo investors into the area for more developmental projects.
He tasked the chiefs and people of these beneficiary communities to cooperate with the contractors during their stay in their communities and also serve as watchdogs over the electrification project.
Source:Fiilafmonline/ShawanaYussif