Only Kuami Eugene Has Authentic Ghanaian Rhythm – Akatakyie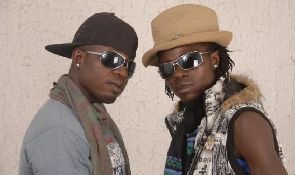 Prince Kwabena Budu Asamani (Kobby Culture) and Ebenezer Kwasi Okyere Asamani (Pharoah) of the Akatakyie duo, have said that Ghanaian musicians have lost the Ghanaian rhythm in their songs except for Kuami Eugene.
The 'Odo Esisime' hitmakers told Prince Benjamin on Class 91.3FM on Friday, 22 March 2019 that they are impressed with the works of Kuami Eugene, Kidi and others.
"We are very much impressed with the kind of artistes like Kidi, Kuami Eugene, Stonebwoy, Shatta Wale, Sarkodie and Eddy Kay himself, I mean we love them so much, they are doing fantastic, though we lost a little of the rhythm of Ghanaian thing in their songs, apart from Kuami Eugene," Pharoah told host Prince Benjamin.
"But I think as time goes on, things are going to change, so, we love what they are doing, they should keep it up. Kuami Eugene is on the line, he is doing Ghanaian music, not typical Ghanaian highlife music but he is in the highlife mood and I think he can do better than what he is doing now," he added.
Source: Myafricatoday.com