Northern Regional Security Council declares an All-out War to combat crime
The Northern Regional Security Council (REGSEC) has declare an All-Out War, to curb the increasing spate of crime especially armed robbery in the region.
In the last couple of weeks, there have been several cases of robberies, vehicle snatching and a recorded gunshot which led to the deaths of a Policewoman on duty last month and the injury of a mobile money vender at Vittin, a suburb of Tamale.
Only yesterday, a Fulani settlement at Bakurgu was attacked, leading to the loss of several livestock and property distraction belonging in the area.
Also during a space of about two months, two out of the four vehicles that were snatched have been retrieved and efforts are still underway to retrieve the remaining.
In all the security has initiated investigations into these heinous crimes to ensure perpetrators are brought to book.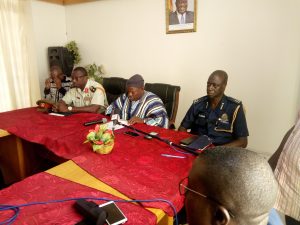 The declaration of an All-Out War which takes place effectively, was made known during a press briefing on Tuesday at the Regional Coordinating Council, where it was indicated that the operation is aimed at restoring total calm in the region for people to go about their normal duties without fear or panic and to demonstrate the readiness and preparedness of the Security Agencies to deal with miscreants who would engage in various forms of crime in the region.
Chairman of REGSEC and Regional Minister Salifu Sa-eed called on residents to relay helpful information to the security to help clamp down on criminals within the region.
Meanwhile the council will be awarding citizens with a ransom on accurate information that can lead to the arrest of criminals in the area.
He called on chiefs and opinion leaders to support the security by being the eyes of the police in their various areas, to help deter miscreants from taking over the region.
Brigadier General Moses Mohammed Aryee, General Officer Commanding, Northern Command, expressed the military's readiness to assist the police service to help calm the situation in the region.
Meanwhile residents have raised concerns of the growing insecurity coupled with rampant attacks targeted at some fuel stations, mobile money venders and homes within the Tamale Metropolis.
Source:Fiilafmonline/ShawanaYussif