Nigeria policeman arrested over army revenge threat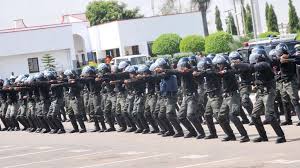 A Nigerian policeman has been arrested after uploading a series of posts on Facebook in which he threatened reprisal attacks against the army for killing his colleagues.
Sunday Japhet is being held in the northern state of Bauchi and will "face disciplinary action", a state police commander told BBC Pidgin.
Last week, three police officers and a civilian were killed when soldiers opened fire on a bus the police were using to transport a suspected criminal. The army said the soldiers believed that kidnappers were in the vehicle.
Mr Japhet said on Facebook: "Those guys can't just be killed leaving their families to suffer like that."
In other posts, he also insulted the president, the vice-president and the chief of police.
Sunmonu Abdulmaliki, the police commissioner of Yobe state, under whose command Mr Japhet was arrested, said the force "just want to know his motives".
An unconfirmed circular purportedly issued by the military, which was widely shared on social media last weekend, advised "soldiers to henceforth be circumspect in their dealings with the police" following the deadly shoot-out.
President Muhammadu Buhari had set up a panel to investigate the incident, after a meeting with the country's security heads.
Source:Fiilafmonline/BBC