N/R: NPP supporters in Sagnarigu vandalize party office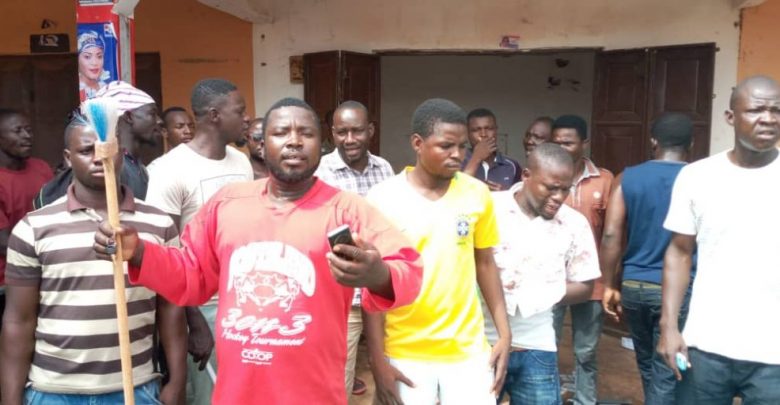 Angry supporters of the governing New Patriotic Party in the Sagnarigu Constituency of the Northern Region on Saturday morning destroyed chairs and other properties at the party constituency office.
This was to protest the failure of regional executives to follow the instructions of national executives to recruit some of them as registration officers for the national identification registration exercise.
According to them, the national executives of the party gave a quota for delegates to be recruited for the national identification exercise but the regional executives deprived them of the o[portunity.
They said the executives have denied the members numerous job opportunities even though they toiled for the party.
Mohammad Fidaus, a polling station executive of the constituency who is also one of the protestors spoke to Citi News.
"We've toiled with our lives years back when the party was in opposition. Now the party is in government. Out of this constituency, there is no single delegate that has been given a job opportunity. We've heard about different job opportunities. Anytime we ask our constituency executives, the information we get is that the regional executives have hijacked everything. If regional executives have the opportunity to hijack items belonging to the constituency, what shows we delegates of Sagnarigu are existing?" he asked.
Mr. Fidaus threatened that there will be more chaos if nothing is done about their situation.
He declared, "If nothing is done, we are waiting to see 2020. Nana Addo should leave Accra, all the regional executives should leave their places and come down to Sagnarigu to monitor elections here. We'll let anyone that comes here know that we are members of the party and we've toiled with our lives years back for the party to gain power and now they are looking down upon us. Enough is enough. We won't take it anymore."
This is happening at the time the Vice President Mahamudu Bawumia is touring parts of the city of Tamale.
This is not the first time youth of the New Patriotic Party have attacked offices of the party following frustrations churned towards party executives and their decisions.
About two years ago, a similar incident happened in Sagnarigu when a group called Kandahar Boys attacked the district assembly.
The DCE's Secretary's office was wrecked and two of the assembly's staff were assaulted in the process.
The attacks were as a result of disagreement over the selection of some caterers for the School Feeding program.
Another incident also happened in Walewale when angry youth invaded the offices of the party to protest against the nomination of Abu Ahmadou as the new District Chief Executive (DCE) for the area.
Source: citinewsroom.com