Moria migrants: Fire destroys Greek camp leaving 13,000 without shelter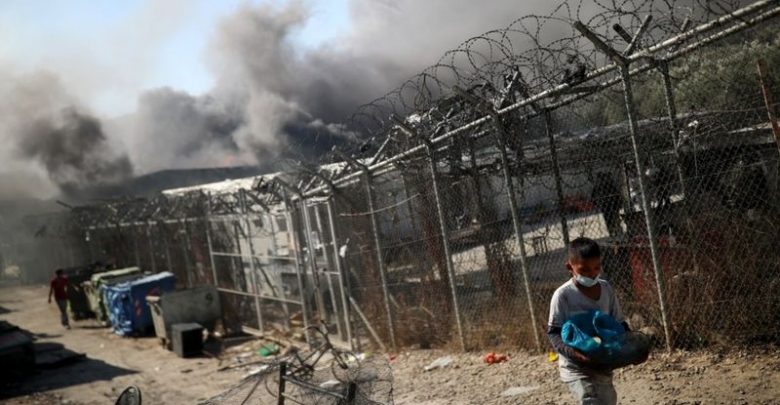 Fires have destroyed Greece's largest migrant camp, an overcrowded facility on the island of Lesbos, leaving nearly 13,000 people without shelter.
Some 40 firefighters battled the blaze at the Moria camp – designed for fewer than 3,000 people – as migrants, many suffering from smoke exposure, fled.
It is unclear how the fires began, with some blaming the migrants and others blaming Greek locals.
Police blocked roads from the camp to prevent migrants entering nearby towns.
Many attempted to carry their belongings to the port town of Mytilene but access was cordoned off. Reports suggest many slept in fields after the fire.
EU home affairs commissioner Ylva Johansson has said she has agreed to finance the transfer of 400 unaccompanied teenagers and children to accommodation on the mainland.
Fires broke out in more than three places in a short space of time, local fire chief Konstantinos Theofilopoulos told state television channel ERT. Protesting migrants hindered firefighters who tried to tackle the flames, he said.
The main blaze, which was initially fanned by high winds, was put out by Wednesday morning, although Mr Theofilopoulos said there were still some small fires burning inside some containers at the site.
One local resident told the BBC almost the whole camp was burning.
"Now with the first light I can see that there is a few tents that make it, they are okay, but the rest of the camp, as I can see from this distance, is burnt out," Thanasis Voulgarakis said.
Some locals reportedly attacked and prevented migrants from passing through a nearby village after they fled the flames.
Authorities placed the Moria camp under quarantine last week after a Somali migrant tested positive for the coronavirus. There are now 35 confirmed cases linked to the site.