Locals take over abandoned K'dua affordable housing project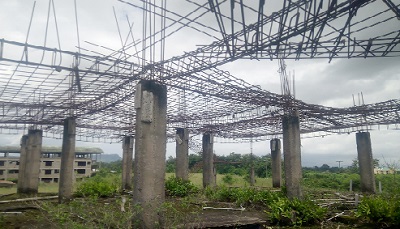 Local basket weavers and maize dealers have taken over the abandoned affordable housing project at Effiduase, near Koforidua, in the Eastern Region.
The state-funded project was meant to reduce the housing deficit and provide affordable and accessible houses for low income earners.
However, it has remained abandoned since 2008, and the local people have taken advantage to use it for their businesses.
While the basket weavers are using the uncompleted housing facilities as their workplace and stores, some maize dealers have also converted parts of the structures into warehouses.
There are also concerns that some occupants with suspicious credentials are also using parts of the buildings for nefarious activities and as their places of abode.
Decay
The project, made up of seven blocks of flats for the first phase, was expected to provide accommodation for many families.
A visit to the site by the Daily Graphic last Friday revealed that part of the area had been taken over by bushes.
Only one of the buildings had the roofing done.
Building materials, including tonnes of iron rods and PVC pipes, have been left at the mercy of the weather over the years.
Indeed, the quantities of those items have reduced over time possibly as a result of theft.
In 2017, President Nana Addo Dankwa Akufo-Addo visited the site where the project engineer, Mr Bio Sackey, reportedly revealed that an estimated GH¢117 million was needed to complete the whole project.
MCE reacts
When she was contacted for her reaction to the development, the Municipal Chief Executive for New Juaben North, Ms Comfort Asante, said she did not have enough information on the project.
She, however, indicated that the assembly spent resources to clear the site when President Akufo-Addo visited the area in 2017
Source: graphic.com