Law firm abandons Trump's suit in Pennsylvania sign in philly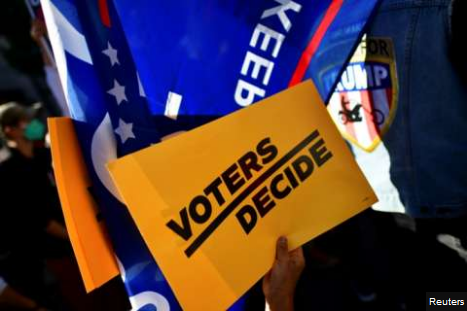 President Trump still has not admitted defeat, and has launched lawsuits in several US states alleging electoral fraud in the days since the election (you can dive into the detail here).
One law firm however has had enough. Porter Wright Morris & Arthur filed a suit on behalf of the Trump campaign in Pennsylvania just days ago, but has already withdrawn from the case.
"Plaintiffs and Porter Wright have reached a mutual agreement that plaintiffs will be best served if Porter Wright withdraws," it said in a court filing.
The New York Times reported on Monday that lawyers at the Ohio-based firm had held meetings to share "concerns" about their work for the Trump campaign.
It was the same day the firm filed a lawsuit against Pennsylvania's secretary of state
alleging "irregularities" and a count "shrouded in secrecy".
US election officials on Friday dismissed Trump's unsubstantiated claims about electoral fraud, declaring the 2020 vote "the most secure in American history".
Source:Fiilafmonline/BBC