Kyebi goes red, angry at 'NDC insults' against Okyenhene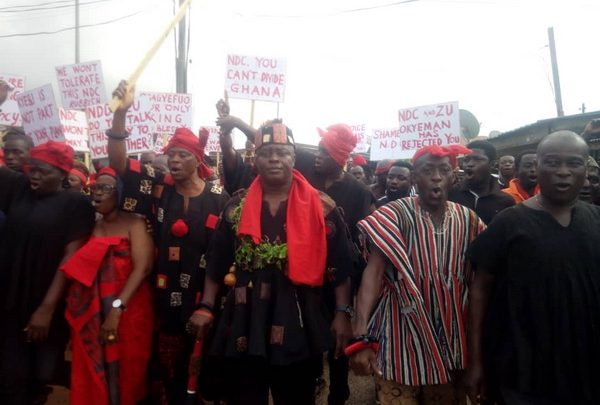 The people of Kyebi in the Akyem Abuakwa traditional area of the Eastern region have poured out onto the streets to protest insulting comments by the Ashanti Regional Secretary of the National Democratic Congress, Kwame Zu, directed at the Okyenhene, Osagyefuo Amoatia Ofori Panin.
Mr. Zu last week had suggested that the Okyenhene shared a common source of drinking water with animals until former President John Dramani Mahama gave the people potable water.
He has since apologized for the comments, however the people say they have had enough of sneers at their king and want him to appear before the Okyenhene to render an unqualified apology.
Clad in red and black garments, the people are marching through the town amidst the firing of muskets and bearing placards with inscriptions such as "Okyenman will not tolerate this nonsense", "NDC and Zu Okyeman has rejected you", "NDC stop this foolish reckless talk", "Okyenhene is our king leave him alone".
More soon
Source: Graphic.com.gh