KAIPTC train Personnel on Electoral Violence and Security
Security personnel within the region are currently taking up a training course on Electoral Violence Security, organized by the Kofi Annan International Peacekeeping Training Centre (KAIPTC), in partnership with the Government of Germany.
The training aims at equipping the law enforcement agencies with the requisite knowledge, competencies and skills to prevent, manage and deal with potential or perceived electoral violence situations.
This according to the organizers aims at contributing to peaceful and safe presidential and parliamentary elections come December.
Meanwhile, the security personnel participating in the training session, which opened at the Regional police headquarters on Monday, October 12 include the Ghana Police Service, the Ghana Armed Forces, Prisons Service, Immigration Service, National Fire Service, and the Customs Division of the Ghana Revenue Authority.
The five days training is expected to close on Friday 16 October 2020. In his address the Commandant of the Kofi Annan International Peacekeeping Training Centre, Major General Francis Ofori noted that in well-established democracies, elections do not degenerate into conflicts, but for new democracies in West Africa, elections remain a main trigger of violence and insecurity which therefore imposes responsibilities on security services.
The Commandant revealed the Course will provide information and some fundamental understanding on the roles of the Police and other stakeholders like the Military, the Customs Division of the Ghana Revenue Authority, the Prisons, Immigration and Fire Services in the management of the electoral process.
In a speech read on behalf of the Inspector General of Police by the Regional police commander COP Timothy Yoosa Bonga,is hopeful that the blend of course participants from the various security agencies, will greatly enhance institutional coordination and foster effective deployment across the country.
He further noted that the course will set the stage for the security services to assure the nation of its readiness to undertake its constitutional mandate of ensuring peace and security before, during and after the upcoming elections.
Other dignitaries also in attendance were the General Officer Command Northern Command, Brig Gen Moses Aryee and The Regional Director of the Electoral Commission, Mr. Lucas Yiryel,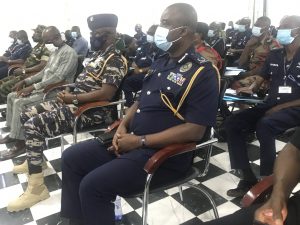 Source:Fiilafmonline/ShawanaYussif