Jordan Ayew reveals Crystal Palace target for 2019/20 campaign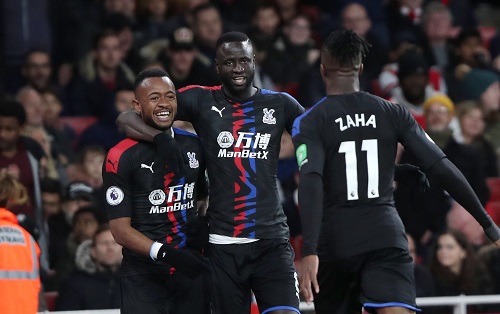 Crystal Palace forward Jordan Ayew has revealed his outfit's target for the 2019/20 English Premier League.
According to him, the team's mission is to get the needed points in their matches in order to reach the 40-point mark which is enough to avoid relegation.
"The most important thing is still for us to reach the 40-point mark as quickly as possible and then we will see."
Ayew has been in a superb form for the Eagles since his permanent move this season. He was on the scoresheet in yesterday's game against Arsenal.
READ ALSO: VIDEO: Michael Eberwein concedes penalty while warming up, referee's decision explained
The Ghanaian aided his side to snatch a point from the Gunners in the 2-2 draw match.
Speaking after the game, the 27-year-old said: "We reacted really well after the two goals conceded and that was a positive thing and gave us confidence. And then after the penalty we grew in confidence more and luckily we got the chance to equalise."
"Overall I think our performance it was a good game, and we could've got the three points, they could've got the three points, so one-point each was a fair result. We are in the right direction and will look to continue like this."
Arsenal made their intentions right from the blast of the referee's whistle and they scored twice with 2 minutes.
Captain Granit Xhaha opened the scoring after firing home from a rebound. David Luiz doubled the lead in the 9th-minute mark from an Alexandre Lacazette's assist. The goal is his first since making the switch from Chelsea.
Goals from Luka Milivojevic and Jordan Ayew saw the Eagles fought back from 2-0 to restore parity. The former scored from the penalty spot whereas the latter rose high to head home the equaliser.
The goal is Ayew's fourth for the Eagles in all competitions.
Jordan Ayew won Crystal Palace Player of the Month of September for his scintillating performances for the club.
Source: Primenewsghana.com