Israel carries out 'wide-scale strikes' on Iranian forces in Syria
Israel says it has hit dozens of targets in Syria belonging to the government and allied Iranian forces.
The Israeli military says the "wide-scale strikes" responded to rockets fired by an Iranian unit into Israel.
Syria says two civilians died and that Syrian air defences shot down most of the missiles over Damascus.
Other reports say the death toll was higher. Local reports said loud explosions were heard in the capital.
Pictures on social media showed a number of fires.
On Tuesday morning, the Israeli military said it had intercepted four rockets fired from Syria towards northern Israel.
It said the rockets did not hit the ground.
Israel has carried out hundreds of strikes in Syria since the civil war broke out in 2011.
It has been trying to thwart what it calls Iran's "military entrenchment" there and block shipments of Iranian weapons to Lebanon's Hezbollah movement.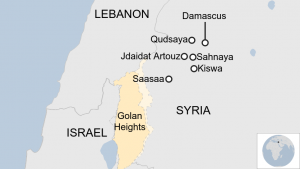 But the latest operation was one of the broadest attacks to date, says the BBC's Barbara Plett Usher in Jerusalem.
A senior Israeli security official said the Israelis had decided on a powerful retaliatory strike to signal they were "changing the rules" – that even a small attack from Syria would trigger an extensive response, our correspondent reports.
Source:Fiilafmonline/BBC