'Incumbency jinx' blamed for survey that reveals NDC MPs performing better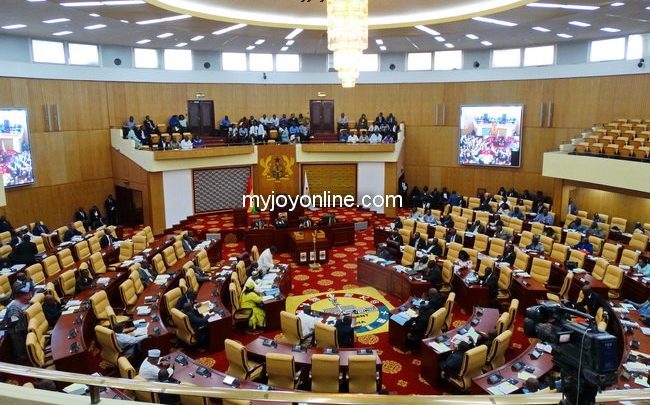 A New Patriotic Party (NPP) legislator has blamed "incumbency jinx" for the outcome of a survey that revealed that Members of Parliament for opposition National Democratic Congress (NDC) better deliver on their mandates.
Yaw Buabeng Asamoah, NPP MP for Adentan Constituency, said Monday evening on PM Express that high expectation of NPP MPs also makes their effort difficult to appreciate.
"There is a certain incumbency disadvantage or jinx. There is a certain higher expectation of an incumbent [party's MP] and there is a certain pressure on an incumbent [MP] that is slightly less on the opposition," Mr Asamoah, who is also Communications Director for the NPP, said.
A research conducted by the Political Science Department of the University of Ghana has revealed that MPs from the opposition NDC are doing better than their colleagues from the governing NPP.
Explaining the survey, which evaluated the 275 MPs through perceptions of their constituencies, Senior Lecturer and head of the research team, Dr Isaac Owusu-Mensah, explained that the research is aimed at seeking the views electorates hold about their MPs performance.
Dr Owusu-Mensah revealed on Adom FM's current affairs show, Burning Issues, another current affairs programme, on Monday, May 10, 2019, that, the relationship between MPs and chiefs, District Chief Executives (DCEs) as well as the constituents was also paramount in determining a legislator's performance.
The leader of the research team also explained that five electoral areas from each constituency were selected whilst 20 people from the electoral area were questioned.
According to the findings of the survey, 50.8% of the respondents said the first responsibility of their MPs was to advocate for development.
Meanwhile, 88.7% of the respondents, according to the survey, said their MPs promised them development, including infrastructure, such as schools, roads, hospitals etcetera.
The study further revealed that 44% of respondents said MPs do not visit their constituencies, a factor that played a key role in the ratings. The research, however, indicates that most of the MPs that do not visit their constituencies are first-time MPs and are predominantly within the Greater Accra Region.
Dr Owusu-Mensah said on Burning Issues that "the only aspect the NPP MPs did better than NDC is the relationship between MPs and DCEs and this could be due to the fact that the NPP MPs are in government and the DCEs are also chosen by the government."
The research also revealed that NDC MPs explain government policies better than NPP MPs.
"I had to go back and check if that was really it because I was wondering how the opposition could be explaining government policies better," Dr Owusu-Mensah said. Explaining what could be the reason for this surprising revelation from the survey, Mr Yaw Buabeng Asamoah said on PM Express that it is possible that NPP MPs are distracted in their attempt to deliver on their core mandates.
Below is the list of the best ten performing MPs, according to the survey:
1. Asutifi South – Collins Dauda (NDC)
2. Effutu – Alexander Afenyo Markin (NPP)
3. Abetifi – Bryan Acheampong (NPP)
4. Atiwa East – Abena Osei Asare (NPP)
5. Ellembelle – Emmanuel Armah Kofi Buah (NDC)
6. North Tongu – Samuel Okudjeto Ablakwah (NDC)
7. Adaklu – Kwame Agbodza (NDC)
8. Akyim Swedru – Kennedy Osei Nyarko (NPP)
9. North Dayi – Joycelyn Tetteh (NDC)
10. Ketu South – Fiifi Kwetey (NDC)
Meanwhile, Dr Owusu-Mensah said, "the worst performing MP is in the Eastern Region with less than 10% rating who will be named later when the list of worst MPs are released".
Source: myjoyonline.com