GRA launches 2019 Tax and Good Governance week in Tamale
The Ghana Revenue Authority (GRA) will soon introduce an electronic payment platform through which operators in the informal sector as well as self-employed persons will pay their quarterly taxes through mobile money.
This is part of the digitization process of GRA to leverage technology to help improve tax administration.
It is also targeted at improving the ease of doing business, which will better position the country in the global business arena as it will significantly reduce cost and time required by taxpayers to do business.
Assistant Commissioner of GRA, Mr. Paul Kwesi Ahiakpor, speaking at the launch of the 2019 Tax & Good Governance Week in Tamale said: his officers will draw the attention of the public to the importance of filing of returns, the payment of taxes and the benefits taxpayers stand to gain from filing their annual returns.
Assistant Commissioner Ahiakpor noted at the launch that payment of taxes are not a matter of choice but are statutory and constitutional requirement enshrined in the 1992 constitution of Ghana.
As part of the week long event, the authority will observe April as a client service month, organize tax clinics across the country to address issues regarding taxes and media engagements to educate the public among others.
The chairman for the occasion Alhaji Abdul Razak Saani indicated in his submission that very few Ghanaians are taxpayers while over 80% are tax eaters.
According to him for the country to be developed like other European countries, there is the need for citizens to be tax compliant and learn to hold duty bearers accountable regarding how our taxes are expended.
Alhaji Saani who is also the Regional Director of the National Commission for Civic Education (NCCE), commended the GRA for introducing the electronic process, indicating that it will cut down on the level human contact.
The Chief Director at the Regional Coordinating Council Alhaji Issahak Alhassan on behalf of the regional minister noted that the issue of tax mobilization is a step at realizing the government's dream of moving Ghana beyond aid.
Director Alhassan urged Ghanaians to fulfill their tax obligations to help achieve a better Ghana.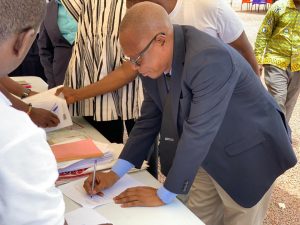 Meanwhile the dignitaries took the opportunity to file their tax returns at the launch.
Source: Fiilafmonline/Shawana Yussif